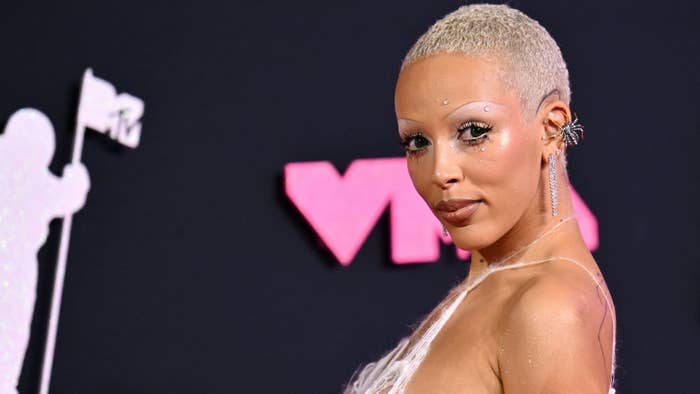 Doja Cat has no qualms about calling out her fans.
On her new album, Scarlet, the 27-year-old addressed her Threads controversy head-on in the song "97": "Like they wasn't tryna fight me in threads ('Bout some music)," she says.
"Pull up and they smiley instead (actin' stupid)/Like they wasn't tryna fight me in Threads ('bout some music)/In a tweet that I'ma probably still stand by (I'm ruthless)/Keep your money, funky b*tch, 'cause I don't play about (the rumors)/They gon' buy it, they gon' pirate, they gon' play it, they consume it/If you're scootin' let me know, 'cause that's a comment, that's a view/And that's a rating, that's some hating, that's engagement I could use/And I could teach y'all how to do this, but I'd much rather be cruisin'"
The original Threads incident happened in July, when fans asked the artist to tell them she loves them and she refused. "My life, my rules, my style, my attitude," she wrote at the time.
When a user then responded, "I wanna hear you say (I do love you guys) as usual you say to your fans," Doja said, "I don't though cuz I don't even know yall."
Her defiance caused stan accounts to deactivate their Twitter accounts after Doja denounced the fandom name Kittenz and urged them to deactivate.
"If you call yourself a 'kitten' or fucking 'kittenz' that means you need to get off your phone and get a job and help your parents with the house," she wrote at the time.
Doja Cat then told a fan account of hers to delete it when asked if she should rename her handle. "just delete the entire account and rethink everything it's never too late," she replied.
​​"Seeing all these people unfollow makes me feel like I've defeated a large beast that's been holding me down for so long and it feels like I can reconnect with the people who really matter and love me for who I am and not for who I was," she wrote on her Instagram stories in August. "I feel free."