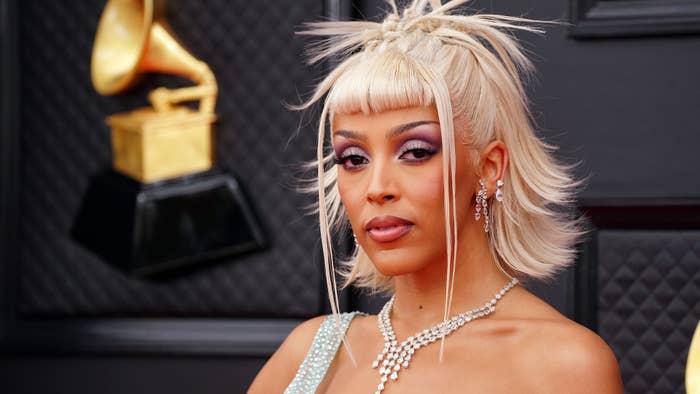 Doja Cat went on a tear with her fans.
And now, the rapper-singer is being criticized for declining to tell her fans she loves them. Pop Base shared screenshots of now-deleted conversations between Doja and her fans on Threads, with her writing, "My life, my rules, my style, my attitude."
When a user responded, "I wanna hear you say (I do love you guys) as usual you say to your fans," Doja replied, "I don't though cuz I don't even know yall."
Another message from a fan shows them going in on Doja, saying, "We have supported you through thick and thin. Mind you, you'd be nothing without us," adding that the 27-year-old would be "working in a grocery store" if not for her fans, and calling her "miss high school drop out."
"Nobody forced you," Doja said. "Idk why you're talking to me like you're my mother bitch you sound like a crazy person."
That wasn't all. Doja also told fans she didn't want them to call themselves "kittenz."
"My fans don't name themselves shit," she wrote in a since-deleted message on Threads. "If you call yourself a 'kitten' or fucking 'kittenz' that means you need to get off your phone and get a job and help your parents with the house."
When a fan pointed out that it was the name Doja has bestowed upon them, she replied, "When i was an alcoholic teen."
Another user then asked what they should call themselves instead, to which the artist said, "Just delete the entire account and rethink everything it's never too late."
And it looks like a lot of Doja Cat fan accounts did just that, with Pop Crave showing screenshots of now-inactive Twitter accounts.