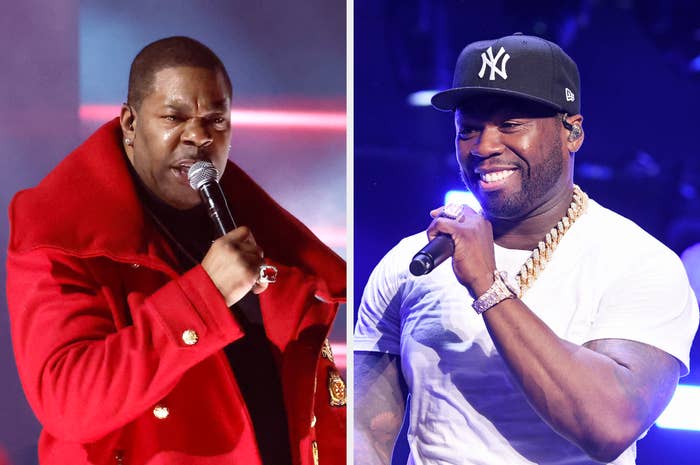 Busta Rhymes didn't sit idly by while 50 Cent claimed that he was the better performer.
Fif made the assertion in a recent interview on Tuesday. "I do his shit better than him. He better not play with me!" he said. "I will fuck around and perform Busta Rhymes' show! If you ever thought that Busta Rhymes was better than me, you crazy! You crazy, man! You just looking at this shit the wrong way."
Interspersed between clips of 50 talking was footage of him performing with one of his apparent signature dance moves, where he moves his hand up and down.
The video also included Busta's response to 50, where he praised the Queens native for his overall performance, but that he still couldn't touch Busta.
"Ayo Fif, I ain't gonna lie, I'ma give it up to you," he said. "The production on your show? Incredible. Lights show? Incredible. The dancers? Incredible. The outfit changes? Incredible. Tony Yayo and Uncle Murda coordination? Incredible. Significant improvements since the way you used to perform back in the day.
"But if you think doing this shit all night, looking like you fanning a fart is a better performance than Busta Rhymes, you out your rabid ass mind! Keep fanning the fart!"
50 Cent is currently on his Final Lap Tour, which boasts Busta and Jeremih as supporting acts. Busta once again gave 50 his props for the trek, calling it "the biggest tour in the whole fucking globe."
"Ayo Fif, I ain't gonna front. I definitely gotta say thank you for bringing us out on the Final Lap Tour," he added. "This shit has been an incredible experience and we 'bout to take it overseas and fuck the whole planet up."
During 50's same interview, he also called out Busta for stealing one of his old dance moves during tour—the "magic stick" move. 50 Cent posted a video on IG of Busta using a microphone to simulate himself masturbating, calling the act "inappropriate" and revealing he "use to do this to magic stick 10 years ago."