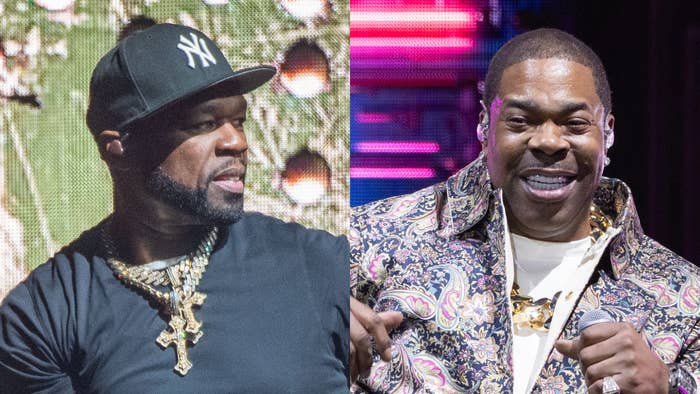 50 Cent is having a hard time accepting that Busta Rhymes used one of his old moves on stage during a stop on The Final Lap Tour.
On Tuesday, 50 took to his Instagram with a video of Busta using a microphone to simulate himself masturbating, and the G-Unit boss didn't appreciate the thievery and jokingly called the act "inappropriate." In the clip, Busta Buss is looking at someone in the crowd and stroking the microphone he placed on his crotch while performing "I Know What You Want."
"😆BUSTA stole this move from me, I use to do this to magic stick 10 years ago," 50 wrote. "LOL 🤷🏽‍♂️Now it just feels dirty, inappropriate unnecessary LMAO this is giving, your old uncle at the barbecue that won't go sit down vibes right !"
"Look at this, tell him his chain too big," Fif said to someone just off camera in the clip, as seen below. "Tell that n***a his chain too big, he ain't got friends they not telling him." The two rappers erupted into laughter as Fif failed to hold a straight face.
50 Cent's latest tour has proved to be a star-studded affair. At one of the Brooklyn concerts celebrating the 20th anniversary of his landmark debut album Get Rich or Die Tryin', the rapper brought out Fat Joe and Jadakiss, two of his former rivals.
At the Michigan stop, 50 Cent surprised Detroit fans by bringing out Eminem to perform "Crack a Bottle."