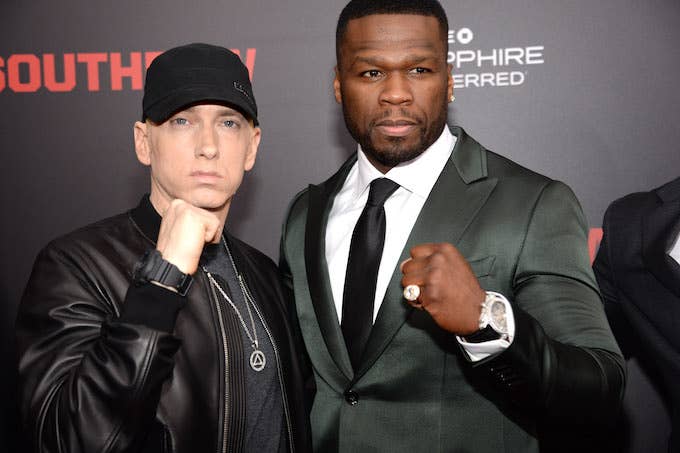 50 Cent loves a good beef; and now, he's stepped into the middle of Eminem and Nick Cannon's decade-old squabble.
On Tuesday, Fif took to Instagram to share a photo of Em alongside the caption, "I don't understand to save my life why someone would pick a fight with EM. He is a different kinda animal, I haven't seen a motherfucker come close to beating him man. 😠hey Nick that shit was trash, I oughta kick you in yo ass when I see you PUNK!"
The feud between Em and Cannon began in 2009, when the Detroit rapper claimed he was still in love with Mariah Carey after a brief fling. Since then, the feud has had a lot of starts and stops.
The most recent revival is due, in part, to Cannon opening-up about the bad blood on T.I.'s 'ExpediTIously' podcast. From there, tensions escalated after Em delivered a killer verse on Fat Joe's Family Ties album cut "Lord Above," where he makes mention of Cannon's comments on the podcast and suggests Cannon was still "whipped" by his ex-wife Carey.
After Cannon went on Power 107 FM and responded to the track last week, he dropped a diss record called "The Invitation" on Monday. Later that day, Em chose not to fire back with a track, but instead took to Twitter to "demand an apology" from Cannon.
Fif and Em go way back. Fif signed to Eminem's Shady Records around 2002 and was with the label until he departed in 2014. 
Cannon saw what 50 had to say about him and responded with an older photo of Samuel L. Jackson.