Young Thug's 'Beautiful Thugger Girls' Has Arrived
After weeks of teasers, Young Thug has finally delievered his singing album, 'Beautiful Thugger Girls.'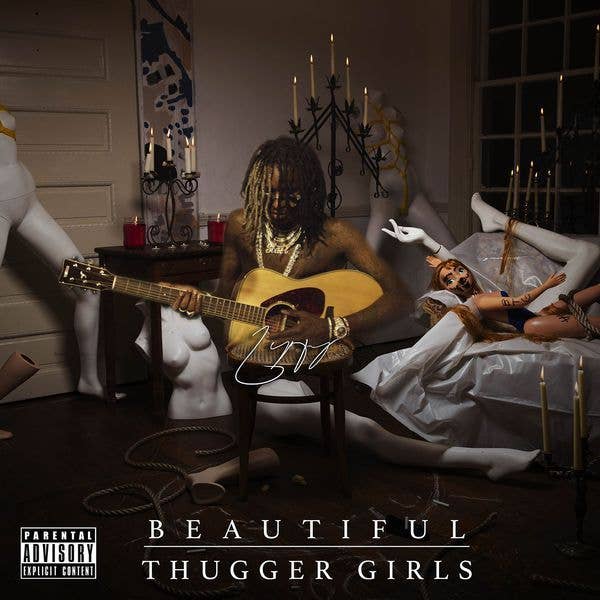 Publicist
It's the day many of you have been waiting for: Young Thug's Beautiful Thugger Girls album is officially here.
The 25-year-old Atlanta rapper announced the project back in April, revealing it would be a "singing project" executive produced by Drake. In the weeks leading up to the release, Thug continued to tease the album with the E.B.B.T.G. (Easy Breezy Beautiful Thugger Girls) title; however, there weren't many details about the project.
We knew the album was inspired by Thug's fiancée, Jerrika Karlae, and that it would include a country-infused track, but there were many questions left unanswered, like which artists—if any—would be featured. Fans didn't even know the name of a single track, as there was no confirmed promotional singles. But just days before Beautiful Thugger Girls dropped, more information was revealed.
We finally got a look at the cover art as well as the official tracklisting, which indicated guest appearances by Future, Snoop Dogg, Lil Durk, Jacquees, and Millie Go Lightly. Surprisingly, Drake's name wasn't included on the list, nor was that Rich Homie Quan record he previewed last month; we're hoping that track gets some kind of release down the road. Some familiar faces popped up in the album credits as well; Young Chop, London On Da Track, Scott Storch, Post Malone, and more helped put together the back-end of the project, and it flows together nicely despite the eclectic mix of producers.
You can download Beautiful Thugger Girls now on iTunes or stream it on Apple Music. You can also listen below via Spotify. Travis Scott and Gunna are listed as features on "Me Or Us" and "Tomorrow Til Infinity."