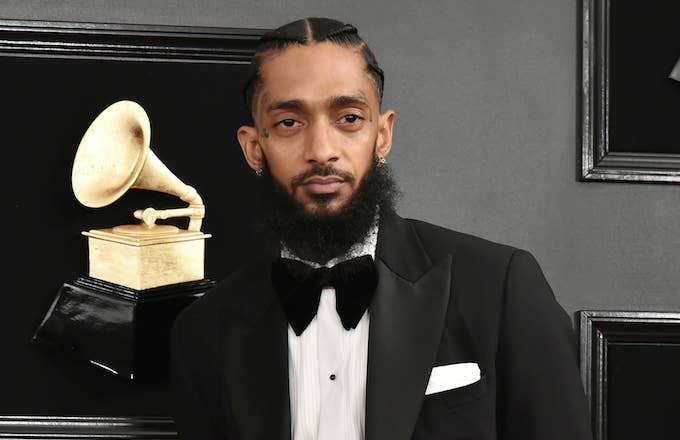 In the days following an artist's death, it's common to see their music streams receive a significant boost. This occurred with Mac Miller, Aretha Franklin, and now Nipsey Hussle.
According to Billboard, Nipsey's music catalog garnered 101.5 million on-demand streams on Sunday and Monday, marking a 1,773 percent increase from the two days prior. His most-streamed record was the newly released stand-alone single "Racks in the Middle," featuring Roddy Rich and Hit-Boy (11.8 million). "Dedication," assisted by Kendrick Lamar came in second with 9.6 million streams; "Double Up" with Belly and Dom Kennedy followed with 8.5 million; "Last Time That I Checc'd," featuring YG took the No. 4 spot with 7.1 million; and "Hussle & Motivate" rounded out the top five with 2.9 million. The latter four tracks all appeared on Nipsey's 2018 Grammy-nominated album Victory Lap. 
Billboard reports that the boost in streams will likely catapult Victory Lap into the top five of the Billboard 200. The album debuted and peaked on the chart at No. 4; it hasn't placed since May 5. 
Victory Lap has also topped the iTunes albums chart in the days following his death, while three of his songs—"Racks In the Middle," ''Dedication," and "Last Time That I Checc'd"—occupied the top 10 of iTunes' songs chart on Wednesday night. 
Nipsey was not only celebrated as a great artist, but also as a savvy businessman. The 33-year-old rapper would regularly point out that he retained ownership of his masters, even after inking a deal with Atlantic.
"I'm a master of my fate," he rapped on "Young Nigga" featuring Puff Daddy. "Plus I'm the type of nigga own the masters to my tape."
He expanded on this during a 2018 interview with Mass Appeal, explaining the importance of an artist owning the content they create.
"As an artist, there's a business model that exists in the music industry to prevent you from having ownership, to prevent you from being a partner in the lion's share of the profit," he said. "The value is created in content, so when I think of us as hip-hop artists, we create content, but we don't have a wide product line."
Nipsey was killed Sunday afternoon outside his Marathon Clothing store in South Los Angeles. The rapper sustained gunshot wounds to his head and torso, and was pronounced dead shortly after he was transported to the hospital. Two days after the shooting, police arrested the suspected gunman, 29-year-old Eric Holder, in Bellflower, California. 
Holder is reportedly in solitary confinement because of safety concerns. A judge has set his bail at $7,040,000, which means it's very unlikely he'll get released before his trial.