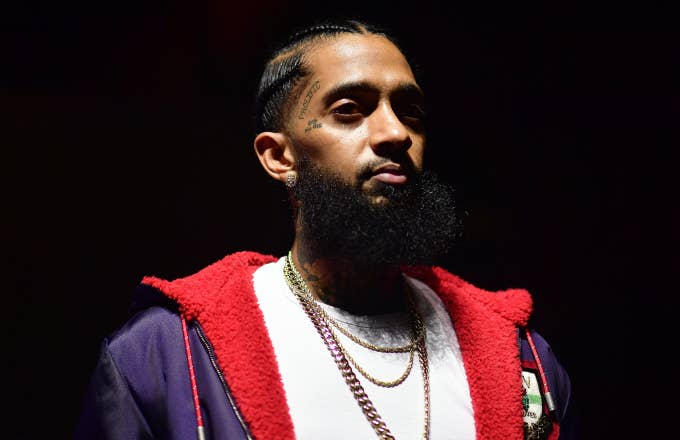 UPDATED 04/1/19 6:58 p.m. ET: A "huge" manhunt to find the person who killed Nipsey Hussle is underway, Los Angeles police spokeswoman Lizeth Lomeli confirmed to The Hollywood Reporter. The Los Angeles County Media Examiner's office says an autopsy was completed and Nipsey's official cause of death has been ruled a homicide. The L.A. County Coroner's Office confirmed that the rapper died of gunshot wounds to the torso and head. 
UPDATED 3:15 p.m. ET: An anonymous law enforcement source tells the New York Daily News that LAPD homicide detectives are pursuing a suspect known personally by Nipsey Hussle. The 33-year-old artist was fatally shot on Sunday.
The NYDN reports Nipsey's murder may end up classified as gang-related "because Hussle had a prior gang affiliation, the source said, but it doesn't appear the hit stemmed from a 'rival gang' as much as a personal 'deal gone wrong.'"
The article says the suspect is "in [the LAPD's] sights" but was not in custody as of Monday morning.
See original story below.
Nipsey Hussle was fatally shot today outside of his Marathon clothing store in the Hyde Park neighborhood of Los Angeles, NBC News reports. Hussle was standing outside of his store with a crowd of people when an unknown person opened fire, killing Hussle and wounding two others. Police say that they are looking for a black male in his 20s and that the shooting appears to be gang-related. The Victory Lap rapper was 33 years old. 
Throughout his career, Hussle was praised for his rapping ability as well as his business savvy. While his obvious connection to West Coast cruising music and his laid-back delivery were more than enough to keep critics and Best Coasters alike happy, Hussle really shined in his ability to think up creative new ways to make money. The rapper famously released a mixtape with the hefty price tag of $100 a copy, earning him headlines, shout-outs from industry titans and the attention of his eventual partner Lauren London. 
Hussle used his business acumen and the proceeds from his rap career to launch his successful clothing store. He recently purchased the plaza where his flagship store sits with an eye toward revitalizing the neighborhood he grew up in. Hussle had hoped to tear the plaza down and replace it with a new apartment building that boasted retail —his own store, among the options— on the ground floor. The project was meant to coincide with a new light rail connection between Crenshaw and LAX.
Hussle's reach extended well beyond his own neighborhood. In the wake of Hussle's passing, it became clear how many corners of the rap community he had touched, as many of his contemporaries took to social media to mourn the loss of the rapper. 
He's survived by his two children and London, with whom he just had a child with in 2016.