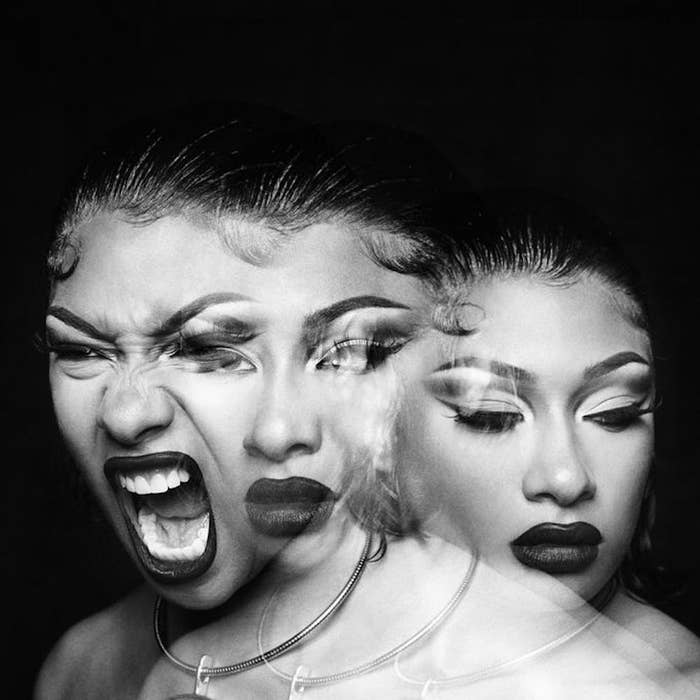 Megan Thee Stallion has released her much-anticipated sophomore album Traumazine.
The Houston rapper confirmed the drop on social media Thursday, just a few weeks after she revealed the project had been completed. Though she reassured the Hotties that the record would arrive sometime this summer, Megan didn't announce a release date until key details about Traumazine had leaked. 
"From my cover art, pieces of my track list and me even hearing a part of a song I haven't dropped yet leaking (and we ALL know who the only ppl who had access to all these PRIVATE links are..) I might as well…lol," she tweeted.
Meg accompanied the message with the album art and 18-song tracklist, which includes the previously released cuts "Sweetest Pie" featuring Dua Lipa, "Plan B," and "Pressurelicious" with Future. The LP also boasts appearances from Latto, Pooh Shiesty, Rico Nasty, Jhené Aiko, Key Glock, Lil Keke, Sauce Walka, and Lucky Daye.
In the week leading up to the release, Megan shared a teaser as well as the definition of Traumazine: "The chemical release in the brain when it is forced to deal with pain emotions caused by traumatic events and experiences. See synonyms: self-realization."
The road to Traumazine hasn't exactly been the smoothest. On Wednesday, Megan took to Twitter to provide a quick update on its status while referencing the years-long dispute with her record label 1501 Certified Entertainment.
"Y'all know I always have problems with dropping my music under this label, all these games and having to go to court just to put out my art has been so stressful," she tweeted. "Thank you hotties for rocking with me through the bullshit WE ALMOST OUT 👏🏾 LETS STAY FOCUSED AND RUN THIS LAST ONE UP."
Traumazine arrives less than two years after the chart-topping debut studio LP Good News and a little over nine months since Something for Thee Hotties. Stream Megan Thee Stallion's new album now.