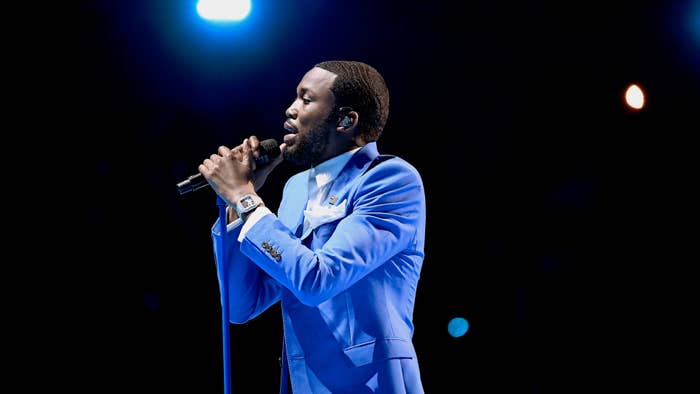 Meek Mill is well aware that fame and success often comes with hate.
The Philadelphia rapper highlighted the issue in a fairly vague Saturday tweet, in which he addressed unnamed individuals who have recently criticized him.
"It's not a coincidence all these people bringing my name up at once lol," he wrote, before suggesting the hate stemmed from jealousy. "I been moving too right and certain people not feeling it because most of these guys can't get in the room! I been outside for years in the field!!! Now I'm helping changing laws now and freeing people."
It's unclear what prompted Meek to share the tweet; but it's worth noting that the message came just days after 50 Cent spoke about him and his beef with Drake on The Breakfast Club.
Another person who brought up Meek Mill's name was Quentin Miller, taking a jab at the Dream Chasers boss earlier this week as well.
Here's what went down: Miller posted a video on Thursday, reflecting on the five-year anniversary of Drake's If You're Reading This It's Too Late. Miller, who was credited as one of the project's writers, said it was difficult to celebrate the anniversary due to the ghostwriting allegations Meek fueled while beefing with Drake. 
"So, a lot people been congratulating me and sending me messages and shit about the five-year anniversary of If You're Reading This and shit ..." he said in the video. "It's pretty much taboo for me to even talk about it. Unfortunately I don't have the good memories about it everyone has, my good memories were all murdered the day Meek Mandela ... The day he put my name out there and just blew up my whole spot. That shit just fucked everything up for me, bro."
The "Mandela" reference was an obvious shot at Meek's activism and push for criminal justice reform—efforts which Miller went on to dismiss.
"Y'all buying that bullshit, since he came out of jail, like he's—whatever," Miller said. You can watch a clip of the original video below.
Some people on Twitter want Meek to make things right with Quentin. Should he?
Meek really ruined Quentin Miller's career to the point this man out here working at Target & warehouse jobs. So fckd up. You out here reforming shit right?

@MeekMill

, reform Q as an artist then.
@MeekMill

please help this black brother. Help pull some strings for him and get him some money and his pocket.

@Quentin__Miller