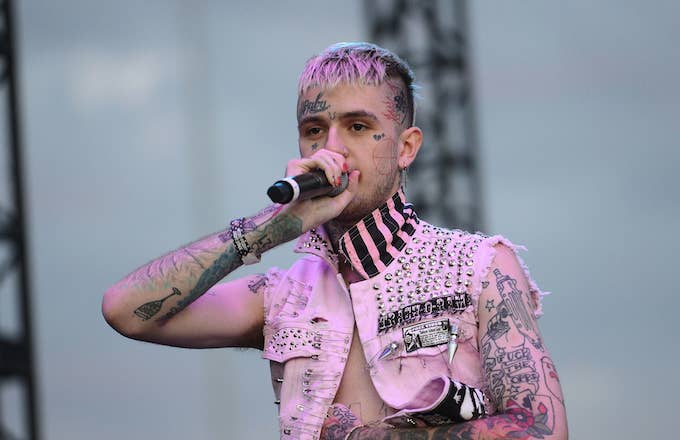 Nearly one year after Lil Peep's untimely death, his estate announced the release of Come Over When You're Sober, Pt. 2, the rapper's first official posthumous album.
On Thursday night, Columbia Records conducted the record's listening session in NYC, featuring heartfelt speeches by Peep's family and friends. Perhaps the most emotional part of the night was when the artist's mother, Liza Womack, stood in front of the crowd and spoke about her son's legacy as well as the significance of the forthcoming album.
"Why is Come Over When You're Sober, Pt. 2 an important album? Why is it worth discussing? There are several reasons," she said, according to a transcript published by The Fader. "First: Gus was a trailblazer in his field. He was one of the first young artists to invent a new type of music by blending together different styles. In a way, his emo-rap, or emo-trap, or alternative rock music style represents this strange transformation—a kind of mutation of music genres. Gus's style was unique. Gus's style was honest. He was an honest person."
Womack then thanked the people who have raised concerns over posthumous album drops. She specifically touched on the growing group of artists whose deaths were caused by drugs, and the ways these types of albums are now forcing fans to face the realities of the opioid epidemic. A medical examiner has confirmed that Peep's death was caused by a fentanyl and Xanax overdose.
"That stuff is risky enough when obtained with a prescription. But nowadays, it is increasingly obtained illegitimately. Demi Lovato nearly died because of dirty drugs. We don't know about the exact cause of Mac Miller's death. The list goes on," Womack said. "Young music artists in this field are dying too often, and features are both very easy to manufacture and also all the rage. The posthumous release of a young artist's music is a problem you are all going to have to face. You're facing it now. Observant writers like Luke Hinz—shout out HotNewHipHop—have picked up on this problem and are asking you, 'What are you going to do about it?' What do you do when a young artist dies long before his time, leaving behind a legacy of finished and unfinished work and a legion of heartbroken fans?"
Though she acknowledged the ways in which posthumous releases can often pose uncomfortable situations, Womack said she was pleased with the way Columbia and producer Smokeasac have handled Peep's Come Over When You're Sober, Pt. 2.
"This is the album that Gus would've wanted—and, yes, I know what he would've wanted, and so does [Smokeasac]," she reassured the audience. She went on to add that COWYS Pt. 2 "is important because it's the album to serve as the model for the way we handle the problem of the posthumous release of the work of the young artists who have left no explicit directions about what to do with their work if they die before they release it themselves. If you care enough to pay for the artist's work, then trust in the artist's work. … Honor the young talent by honoring the work. Thank you to Columbia Records for doing just that. You are indeed releasing an important album and a damn fine one."
Peep's Come Over When You're Sober, Pt. 2 will span 11 tracks, including the recently released "Cry Alone." The project is expected to arrive Nov. 9.