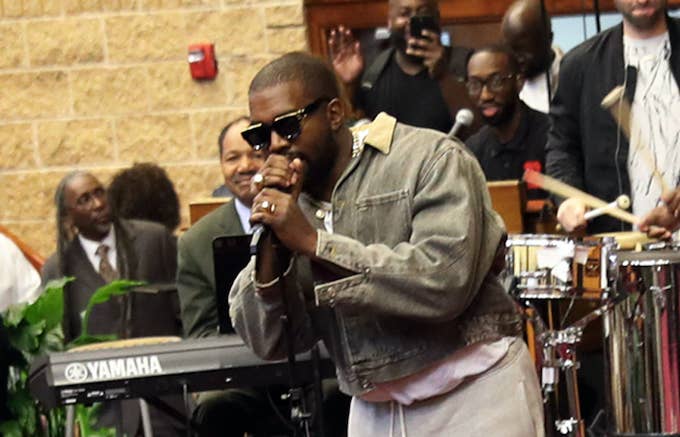 Kanye West is back to spewing right-wing rhetoric in an attempt to defend his support for President Donald Trump. 
On Saturday, the 42-year-old rapper appeared in Salt Lake City for another installment of his Sunday Service. Shortly after taking stage, 'Ye dived into a political rant about the backlash over his pro-Trump comments, and reminded the audience it was a Republican president who abolished slavery in the United States.
"Abraham Lincoln was the Whig Party—that's the Republican Party that freed the slaves," he said, before telling the crowd he refused to oppose Trump simply because he was black. "[...] I ain't never make a decision based only on my color. That's a form of slavery — mental slavery. I ain't drink from the white person fountain. ... I ain't playing with them. All these mind controllers, the media, all of these mind controllers. I find that wherever Christ is where I've got my mind at. We find that the love of Christ is where I've got my mind back."
'Ye made similar statements via Twitter last year, and was immediately criticized for failing to acknowledge party realignment in the U.S.
Kanye also urged listeners to take caution when it came to social media, as it was "designed to make you think slower." It's an interesting take, considering his family's large social media presence.
"Do not read comments on the internet," he said. "These people don't know you like that. Social media is designed to make you think slower. ... They want to slow you down and control you."
He also took some time to address criminal justice reform, suggesting people were too preoccupied with trivial matters to realize just how broken the system really is.
The Salt Lake City service took place one week after 'Ye held listening sessions in Detroit, Chicago, and New York for the Jesus Is King Experience. The multi-hyphenate used the event to preview his documentary film as well as his much-anticipated Jesus Is King album. The former project is set to hit IMAX theaters on Oct. 25, while the latter has been shelved indefinitely.