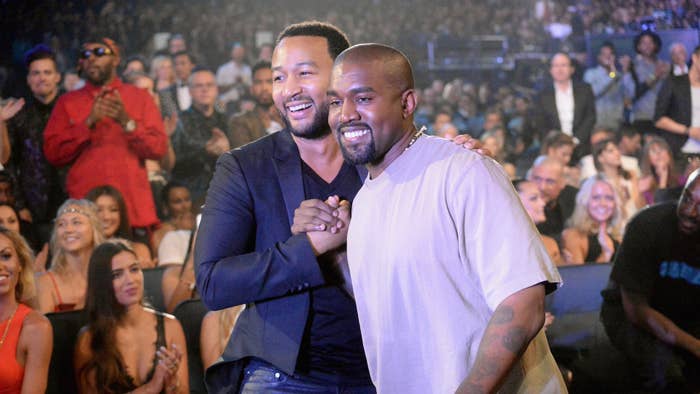 John Legend admits he and Kanye West are not as close as they used to be—and he's pointing the blame at politics.
The 43-year-old singer opened up about their friendship during a recent appearance on CNN's The Axe Files podcast with David Axelrod. At around the 22:30-minute mark, the host asks Legend how Kanye's political positions have affected their nearly 20-year relationship. 
"Well, you know, we aren't friends as much as we used to be because I honestly think because we publicly disagreed on his running for office, his supporting [President Donald] Trump," Legend revealed. "I think it became too much for us to sustain our friendship, honestly."
Kanye raised eyebrows in 2016, when he announced he would have voted for Trump in his presidential election against Hillary Clinton. Ye would continue to express public support for the GOP president in the following years, and once visited him in the Oval Office—a moment that Legend previously referred to as a "publicity stunt." However, in a 2020 Forbes interview, the multi-hyphenate confirmed he was no longer a Trumpist and was focusing on his own presidential bid under the so-called "Birthday Party."
Legend went on to say that he refused to support Kanye's 2020 campaign, which further fractured their friendship.
"I wasn't alone in that, but, you know, he was not happy about that," he said about his refusal to get behind Ye's presidential run. "And we really haven't been close since then."
Axelrod then asked Legend in what ways Kanye was understood. The Grammy winner gently pushed back on the question, insisting "there's not a lot about him that people don't get."
"I think he's been very open with who he is and his struggles with mental health. And he's very real, honestly ..." he explained. "Like he's been pretty upfront with his opinions, his struggles, all the things that he's dealing with. And I think what you see with him is pretty much what you get. I don't feel like he's a whole separate person in private than he is in public. I think you're pretty much seeing the real Kanye publicly."
You can listen to Legend's full interview with Axelrod below.