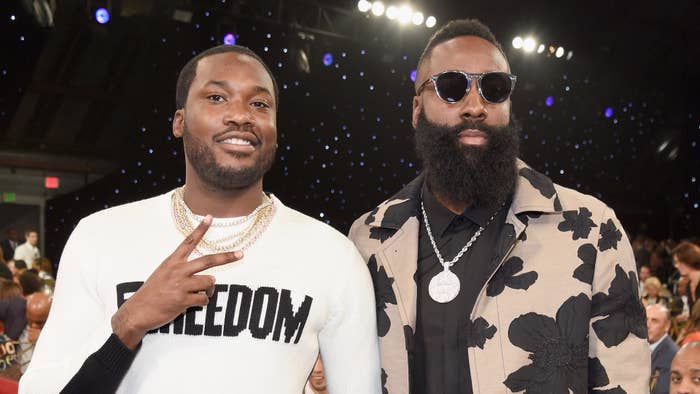 James Harden's love for music trumped his need for a good night's sleep.
In a recent interview clip shared by Sports Center, the Sixers guard recalled a time when he was invited to hang out with his good friend Meek Mill ​​​​​​ as well as Lil Baby and Lil Durk. The rappers told Harden they had landed in Houston and wanted him to join their late-night studio session so he could hear their new material. This posed a dilemma for the then-Rockets star, as he had a scheduled practice for the following morning. But Harden was immediately overcome with FOMO, and decided to sacrifice his rest to hear what the trio was cooking up.
"They all called me like, 'Yo, we about to pull up to Houston.' Baby, Durk, Meek," Harden said. "They all come to the house [from] Atlanta, like 2 in the morning. I gotta go to practice in the morning! They come in the studio and I'm up with them the whole time."
He continued: "And I go right from the studio at 7:30 a.m. right to practice. I can't miss this opportunity. They in the studio, I gotta see what these dudes about to talk about."
Harden is among the NBA stars who have stepped into the rap game. Not only has he recorded his own material, he also served as the executive producer of Baby and Durk's collaborative project The Voice of the Heroes.
"From the beginning, I've had a passion for basketball, and music has always went hand and hand with it," he said ahead of the album's release. "It drives me on the daily to continue to be the best at what I do, to always strive for more. I see that same passion in Lil Baby and Lil Durk and can honestly I say I'm a true fan."