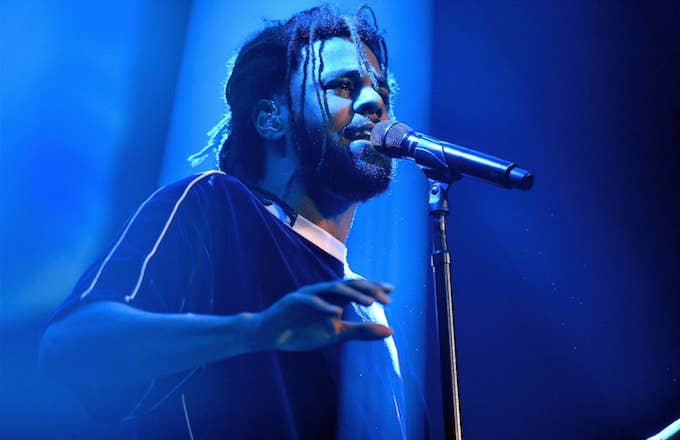 When he set out to create Revenge of the Dreamers III, J. Cole had one specific goal in mind: to show the world he and the Dreamville family weren't a bunch of recluses.
The 34-year-old artist spoke about his intentions in XXL's "An Oral History of Dreamville's 'Revenge of the Dreamers III' Recording Sessions." In the piece, Cole and his fellow labelmates reflect on the upcoming compilation project and the 10-day "rap camp" during which it was created. 
"We knew we wanted to do a Revenge album. We've been talking about that shit for mad long. Ib (Dreamville President Ibrahim Hamad) had been putting together the songs that he had just from the camp," Cole explained. "But my idea came from the fact that as individuals, we fuck with a lot of people. And people fuck with us. Whether it's me, Bas, J.I.D, Cozz. We're people persons. But to the outside world, especially 'cause of me and the reputation that I've gotten—to nobody's fault but my own—is a perception that I don't fuck with nobody and nobody don't fuck with me. Really that's not the case. Because I'm so secluded then it's like Dreamville is so secluded. It's not like that."
Felton Brown, the senior art director for Dreamville Records, said the idea for a rap camp recording sessions came about at the beginning of 2018; but because of the team's busy schedules, they couldn't pull it off until this January. The sessions ultimately went down at Atlanta's Tree Sound Studios, where Dreamville artists collaborated with other heavy-hitters, including Rick Ross, Vince Staples, 6lack, T.I., and Wale. The artists who participated in the camp received a personal invite from the Dreamville family—a digital "golden ticket" of sorts.
"We've always wanted to do some kind of Willy Wonka thing and this kind of ended up being that. The first wave might've been 30 invites but by the second day, it probably tripled," Brown said. "We started remembering people, we knew certain people were in town. No one would associate most of these people with Dreamville, as in recording together, [although] behind the scenes there's relationships. That's what made it special. Even if you had a schedule conflict and you couldn't make it, because of the moment that it made on social, [artists would post it]. It's social currency—yes, my talent is requested. I made one for myself! People online started making their own."
But it wasn't just hip-hop stars who got in on the action. According to Ib, the Dreamville team also worked with a NBA legend.
"Chris Bosh hit Cole, like, 'You mind if I come through for a couple of days?' I didn't know he produced—he's been producing for, like, four years," Ib said. "He came through. He had a beat and T-Minus was like, 'Oh, this is actually hard! Let me get those drums, add a little music to it.' Cole grabbed the beat, like, 'I fuck with this.' Chris Bosh was there for two days soaking up game, playing his beats [...]"
The recording sessions were described as an "artist's Disney Land," a surreal mix of hip-hop's biggest stars feeding off each other's creativity. Participants said it was common for an artist to jump from room to room contributing to different records.
"I've been training for this. I get to be just a rapper, flex my rapper chops," Cole said. "Go jump in every room. If they're doing something that's hard, write a verse for that shit on the spot or just listen."
The process was so fast-paced and organic that there were a number of cuts that included no one from the Dreamville family. Cole acknowledged that there was a lot of material to review, but insisted the final tracklist would be decided by the Dreamville team.
"We going to get in the room and play all of them. It's a voting process," he said. "We speak honestly with each other. But 90 percent of these songs are going to see the light of day."
You can read the full piece on the Revenge of the Dreamers 3 sessions at XXL. The album is expected to drop this month.