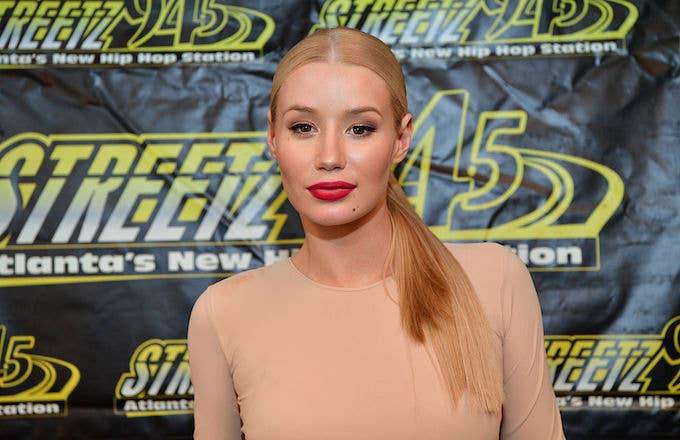 Recording Academy president Neil Portnow faced major backlash this week after he told female artists to "step up" in order to achieve the same success as their male counterparts.
Iggy Azalea, like many others, wasn't going to let this comment slide.
On Tuesday afternoon, the Australian-born rapper sent out a number of tweets in which she criticized Portnow's comments and seemingly called for a Grammy boycott.
"Neil Portnow really has me heated with his 'women need to step up' Grammy-Boys-Club bullshit statement," she wrote. "Or instead of being gracious and wearing white flowers on the carpet (bringing in the viewers for his telecast in designer gowns) women should consider if we NEED to take firmer action and stay at home in PJs next year… see how that works out for Neil."
Shortly after the tweets were deleted, Iggy returned to Twitter to clarify her comments, insisting she wasn't calling for a boycott—not yet, at least.
"I'm not saying we should boycott anything just yet," she wrote. "However, if women don't see signs of real change throughout the year a firmer stance may be needed to be taken seriously. I just want to see my peers valued. #TimesUp."
The 27-year-old artist went on to explain how Portnow's words were belittling and condescending toward women working in the music industry. Iggy echoed previous statements that argued women have been stepping up for years; however, sexism within entertainment has prevented them from getting the recognition they deserve.
You can read Iggy's tweet responses below. 
Other artists including Charlie XCX, Sheryl Crow, and Pink have also criticized Portnow's comments as well as the lack of female representation within the Grammy categories.
Pink tweeted: "Women in music don't need to 'step up'. Women have been stepping up since the beginning of time. Stepping up, and also stepping aside. Women owned music this year […] When we celebrate and honour the talent and accomplishments of women, and how much women step up every year, against all odds, we show the next generation of women and girls and boys and men what it means to be equal."
Portnow has since apologized for his comment, insisting he used a poor choice of words.
"Regrettably, I used two words, "step up," that, when taken out of context, do not convey my beliefs and the point I was trying to make," he said in a statement. "[…]I regret that I wasn't as articulate as I should have been in conveying this thought. I remain committed to doing everything I can to make our music community a better, safer, and more representative place for everyone."