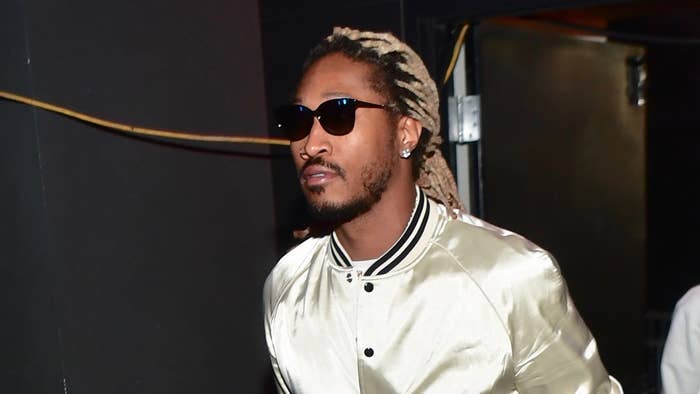 UPDATED 5/14, 9:30 a.m. ET: Sara Molina kept needling Future on her Instagram Stories, clearly referencing Lori Harvey—and her history with Diddy and his son(s)—as she wrote, "Worry about your bitch she been for the streets……and Diddy…….and his sons. Feel offended by the antics and wanna be talking about OMERTÀ but moving the day way [sic] the snitch does as a father."
A few hours before Molina's follow-ups, Future sent more tweets. "I feel disrespected," he said in one.
See original story below.
Future has found himself in more baby momma drama—sort of.
On Wednesday, the ATL rapper posted a series of cryptic tweets in which he referenced an unidentified woman who "belongs to the streets." 
"Let the streets cover her tab," he wrote in one post.
Fans immediately began speculating about who Future was referencing, with many theorizing he and Lori Harvey had finally called it quits. Well, it appears Future was commenting on 6ix9ine's ex-girlfriend/baby momma, Sara Molina, and her involvement in a Lil Tjay music video.
Future had previously tweeted about young rappers using other men's baby mommas as some sort of "props." The message was shared shortly after Rich the Kid posted an Instagram video showing him escorting Molina out of a blue Lamborghini—a clip that, of course, sparked dating rumors.
Rich seemingly denied any romantic involvement with Molina, and told fans he was simply shooting with her for a Tjay video.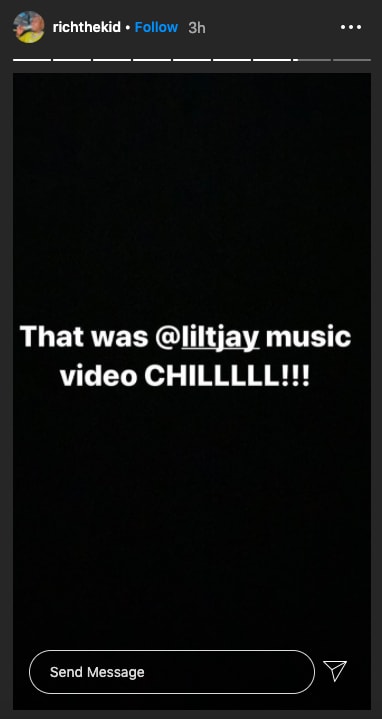 It's also worth noting Rich retweeted Future's aforementioned posts.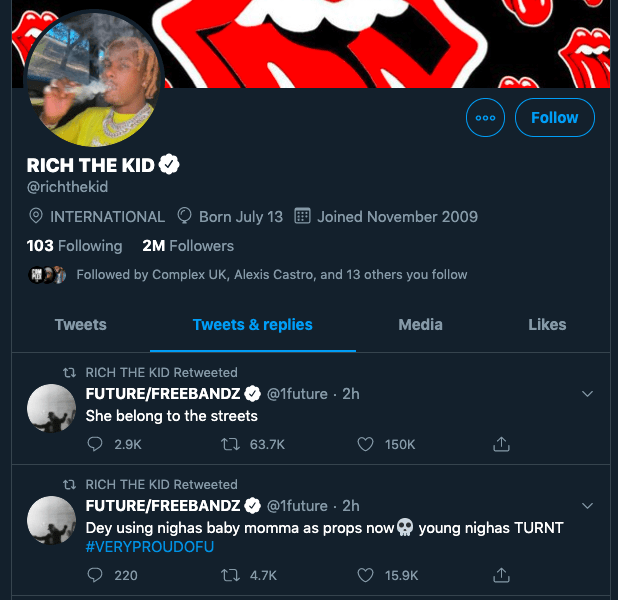 6ix9ine also weighed in on the video showing his ex getting out of the Lambo with Rich's help. As pointed out by the Shade Room, the "Gooba" rapper left a comment on the since-deleted clip, writing: "Can he pay my child support please I'll appreciate it."
Molina, who shares a daughter with 6ix9ine, clapped back at Future via Instagram, taking aim at his personal life.
"With 9 baby mommas, sir you're more for the streets than me," she wrote in a story. 
Though Molina claims Future has children from nine different women, only six have been confirmed. They include Ciara, Jessica Smith, India J, Brittni Mealy, Joie Chavis, and, most recently, Eliza Reign.
Future, who is preparing to release his High Off Life album this Friday, also called for the release of 6ix9ine's former Treyway crew. Members of the imprint, including Tekashi's former manager Kifano "Shotti" Jordan, remain behind bars on federal racketeering charges.