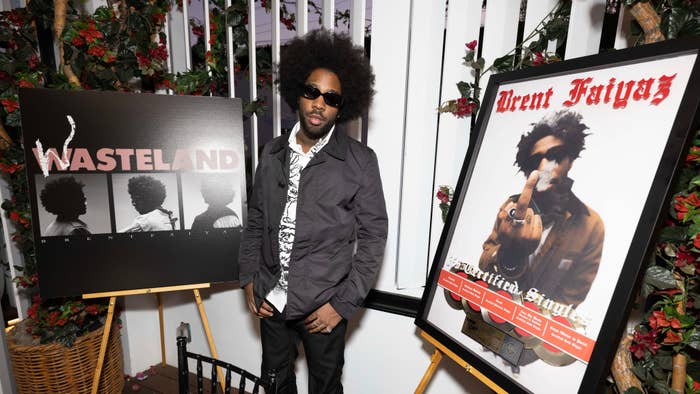 Brent Faiyaz is eyeing the top spot.
According to first-week projections shared by HitsDailyDouble, the artist's Wasteland album is headed toward a strong debut. The star-studded effort is expected to move between 105,000 to 115,000 album equivalent units, giving it a decent shot at dethroning Bad Bunny's Un Verano Sin Ti project, which has spent the second-most weeks atop the Billboard 200 chart so far this year. As pointed out by HDD, Un Verano Sin Ti has yet to move fewer than 100,000 units since its release two months ago. 
If Wasteland manages to edge out Un Verano Sin Ti, it will become the first true indie to hit No. 1 since XXXTentacion's 2018 project Skins.
Following news of the projections, Faiyaz took to Instagram to comment on the update, writing, "Easy."
Wasteland marks Faiyaz's first full-length effort since 2017's Sonder Son. It boasts features by everyone from Drake and The Neptunes ("Wasting Time") to Tyler, the Creator and DJ Dahi ("Gravity") to Alicia Keys ("Ghetto Gatsby") and Tre' Amani ("Addictions"). Faiyaz spoke about the project during a recent interview with Vogue, explaining how it all came together.
"It was less of an album process and more of a life process," he said. "I just made a collection of songs and tied a story line together once I saw that they all kind of shared a similar theme. I didn't really realize I was working on an album until I was maybe a little over halfway through. Then I realized, Wait a minute, this is a body of work."