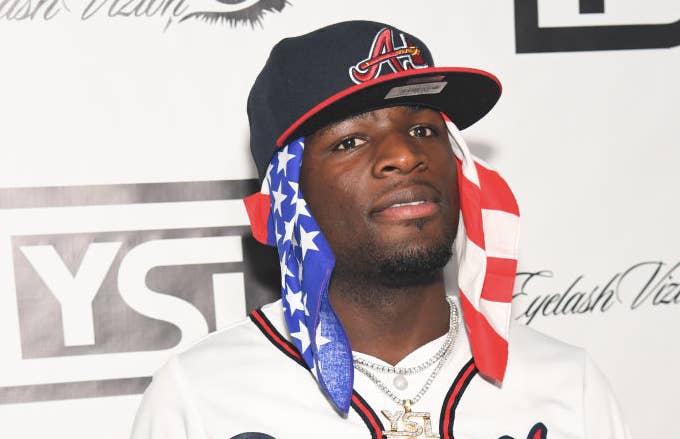 Atlanta-based rapper Ralo was arrested this week for allegedly trafficking nearly $2 million worth of marijuana from California to Georgia.
According to NBC affiliate 11Alive, Ralo—legal name Terrell Davis—was charged with two counts of conspiracy to distribute marijuana after authorities raided his private plane at the Peachtree-Dekalb Airport. An affidavit states the case stems from an incident in December 2017, when investigators tracked Ralo and his entourage after they returned to Georgia on a chartered flight. Agents claim they witnessed the rapper and other individuals transfer 37 packages wrapped in holiday-themed paper from the aircraft to a van registered to Ralo.
The document states the artist drove away in a separate vehicle; the driver of the van containing the packages was pulled over for driving without his lights on. Authorities searched the vehicle and found more than 500 pounds of weed with a street value of over $1 million. The driver and passengers were all taken into custody.
Shortly after the arrest, Ralo hit up Instagram with a message that read: "I've lost more than an man have gained in a lifetime... Have you ever lost ah million dollars at one time???"
Fast-forward to this past weekend, when investigators received a tip that Ralo—the alleged leader of a gang called Famerica—was allegedly conducting another drug run. Agents raided the plane shortly after it landed, and discovered 444 pounds of marijuana worth about $800,000. Ralo and eight other passengers were arrested.
"It's an ongoing investigation so I can't comment beyond what's on the complaint," U.S. District Attorney Byung J. "BJay" Pak told WSB-TV. "We have several individuals who were arrested based on state charges but, as you know, that there's a federal complaint filed so we'll be seeking additional evidence."
WSB-TV reports officers also raided Ralo's apartment in south Atlanta on Wednesday; however, the details of the raid have not been revealed. According to several outlets, the rapper was still behind bars as of Thursday.