Eminem Led 2018 in Album Sales
The Detroit rapper over 755,000 units in album sales last year.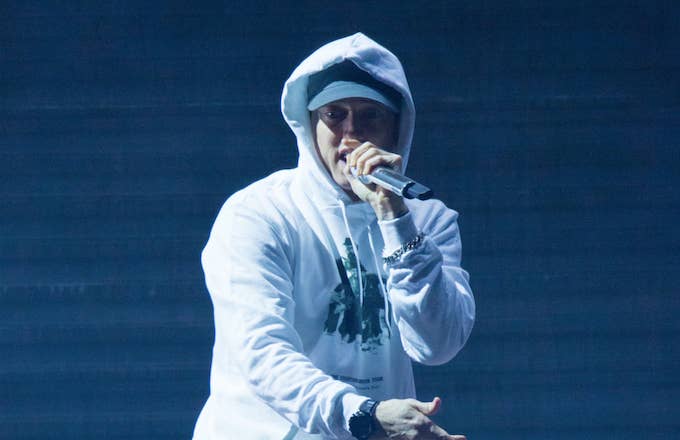 Getty
Image via Getty/Scott Legato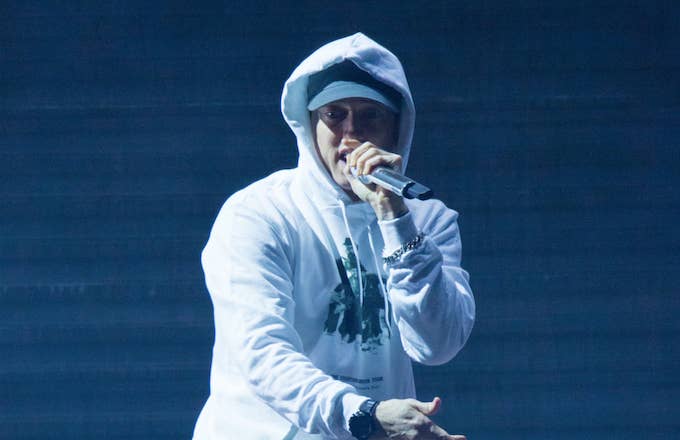 Eminem still reigns. More than two decades after releasing his debut studio album, the Detroit rapper continues to rack in impressive sales figures. According to BuzzAngle Music's 2018 Year-End Report, Eminem sold more albums than any other artist in 2018, earning a whopping 755,027 units in album sales. K-Pop boy band BTS landed at No. 2 with 603,307 units; Chris Stapleton and Metallica followed with 577,287 and 539,861 units, respectively; and Lady Gaga and Bradley Cooper rounded out the top 5 with 526,803 units.
About half of Eminem's album sales came from his surprise project Kamikaze, which was the fourth top-selling album of 2018 (373,067 units). That means nearly 400,000 of Em's sales came from his extensive catalog, which includes The Marshall Mathers LP, The Eminem Show, and Encore. The former two have been certified diamond. 
He also performed well in the streaming category, garnering a combined total of 4.7 billion audio and video streams. He had the fourth-highest streams of any artists in 2018, following Drake at No. 1 (10.5 billion streams), Post Malone at No. 2 (6.9 billion), and XXXTentacion at No. 3 (5.9 billion). 
It's also worth noting that two of Em's biggest critics—Machine Gun Kelly and Gucci Mane—were not featured on BuzzAngle Music's report. Another point for Em.