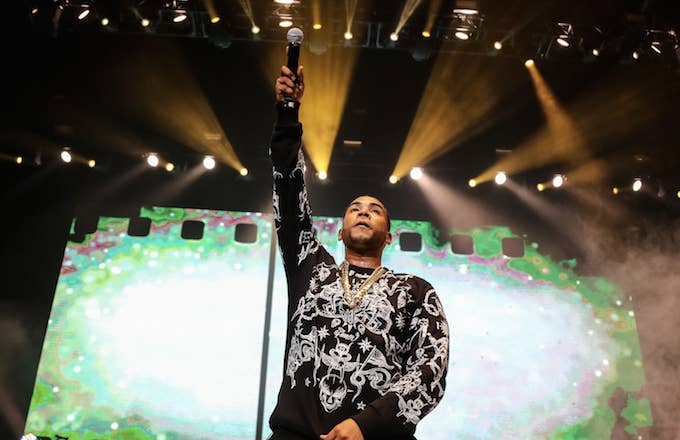 Don Omar is facing backlash over homophobic social media posts seemingly directed at Ozuna, his longtime rival.
Earlier this week, Ozuna's attorney confirmed his client was a victim of an extortion scheme that took place in 2017. He claimed someone threatened to release a pornographic video featuring an underaged Ozuna and two men. Although the identify of the extortionist(s) has not been revealed, several outlets reported that Ozuna's attorney Antonio Miguel Sagardía said the culprit was Kevin Fret, an openly gay Puerto Rican rapper who was killed earlier this month. 
Ozuna has since apologized for the video, and confirmed he and his team previously took legal action against the extortionists.
"What happened was a mistake of the past. Like many young people, I made a mistake, fueled by ignorance," he said in a statement published by Billboard. "Today, I'm not only sorry for what happened, but I condemn it. That's why I looked for help and I am certain everything will be cleared. Likewise, I'm following the process and am always willing to collaborate with authorities to prevent the evil that resulted from this big mistake. More importantly, I ask my family for forgiveness. They are my life's priority and I will continue to fight for them always."
Shortly after the extortion case made headlines, Omar seemingly addressed the scandal in a couple of homophobic social media posts, one reading "Lunch break!" in English, followed in Spanish by "Any of you eat [duck emoji]? Not me [thumbs down]."
Pato, which translates to "duck," is a homophobic slur used in some Latin countries. Omar also posted a video in which a duck is seen on top of a teddy bear—an apparent reference to Ozuna's logo.
Twitter users were quick to blast Omar for the posts. High-profile figures like Bad Bunny as well as San Juan Mayor Carmen Yulín Cruz also critcized Omar on Twitter.
"Homophobia in this day and age?" Bad Bunny wrote. "How embarrassing, loco."
"We still have many battles so that those who have narrow minds and spirts learn to respect diversity," Cruz said in a retweet of Omar's comment. "We carry on. As Olga Tañon told us this weekend, there are more of us who are good."