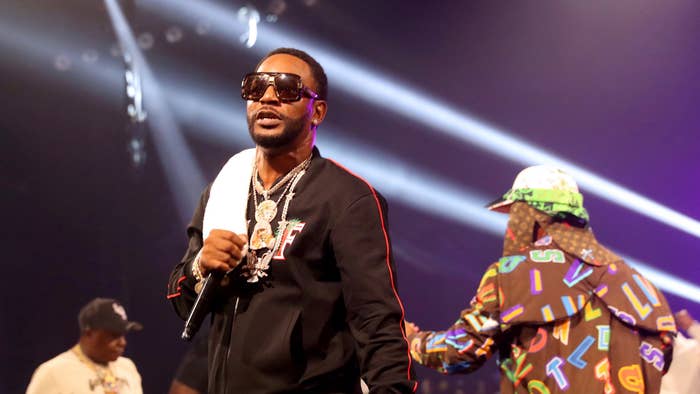 Cam'ron is pissed.
The Dipset rapper took to Instagram on Friday to call out Brooklyn Nets forward Ben Simmons. Cam expressed his frustration after watching the team's 129-125 OT loss to the Dallas Mavericks—a game in which Simmons made a series of head-scratching mistakes, like airballing an open layup.
"I'm gonna be real brief … Ben Simmons, stop wasting my n***a's time. I'm dead fuckin' serious, stop playin' with my n***as, man …" Cam said in a video. "If you don't fuckin' wanna play basketball, go the fuck with the Kardashians, the Jenners, whoever the fuck you with." 
He continued: "I went to the fuckin' game last night and I watched you shoot an airball layup. Stop playin' with my n***as. KD, Kyrie, I know you may not approve this, but it ain't on that. This is on me. Stop playin' with my n***as … That shit got me mad."
Simmons made his Brooklyn debut earlier this month, after a series health issues and disputes kept off the court for 470 days. His so-called "comeback season" has gotten off to a rocky a start, as he's averaged 5.2 points, 8 rebounds, and 7.7 assists in the first five games. 
Nets star Kyrie Irving defended the three-time All-Star following their 99-110 loss to the Milwaukee Bucks on Wednesday. Simmons finished he game with 4 points, 5 rebounds, 9 assists, and four fouls in 34 minutes.
"I mean, I just think like if we're going to come in and be honest as a team, I'm not trying to just be critical over what Ben's done right or done wrong every single night," Irving said in a post-game interview. "He's a basketball player, he's a professional, he has the skills to be a great professional. He's done it in the past and he hasn't played in two years so you guys keep coming in here and asking me, 'What about Ben? What about Ben?' and it's just he hasn't played in two years. Give him a fucking chance."
The Nets have lost four of their first five regular-season games. They will take on the Indiana Pacers this Sunday at Barclays.