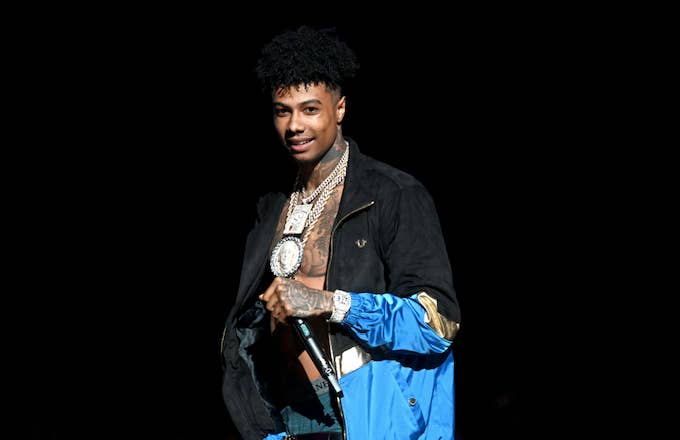 Blueface isn't lacking any confidence.
On Thursday, the "Thotiana" rapper hit up Instagram to boldly crown himself the "best lyricist" in contemporary hip-hop. He also questioned why music fans continue to listen to the "other bullshit." But, of course, he didn't mention any names.
"Hey cuz, that's on my mom and my sis: I'm the best lyricist in the muthafuckin' game, bro," he said. "I might not have the best flow, sound—uh, I don't know what the fuck ya'll be listening to when ya'll be listening to this other bullshit, but when it come to wordplay, cuz? Come on, bro."
In an attempt to prove his point, Blueface then recited several lines from an unreleased track he previewed earlier this week. The snippet included a reference to the recent drama with his mom and sister, who he allegedly kicked out of his house after an argument.
"I'm at the Ritz Carlton hotel blowin' zips/This is a non-smoking room/But can no ho tell me shit/'Cause bitch, I'm the shit," he rapped, before adding, "Oh my fuckin' goodness."
To no one's surprise, Blueface's comments created a stir on social media. Some agreed with his statement, while others...not so much. Check out some of the reaction's to Blueface's video below.