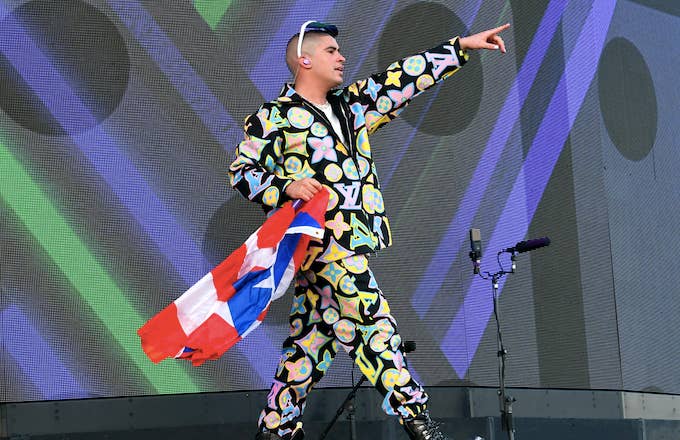 Bad Bunny is joining the protests against Puerto Rico Gov. Ricardo Rosselló.
The Puerto Rican native announced his participation via Instagram on Monday night, informing fans he would pause his European tour as he joins the call for Rosselló's resignation.
"My respects to everyone who has had the courage, valor and initiative to go out in the streets and fight for our country," Bad Bunny said in Spanish. "I'm in Ibiza in the middle of my European tour, but I'm going to stop everything to jump on a plane to Puerto Rico to be able to go out in the streets and be with my people—the people of Puerto Rico. I wish I was there now."
Backlash against Rosselló surged over the weekend, after leaked text messages revealed offensive conversations between the governor and his team. A number of the messages included homophobic and sexist slurs, and plans to manipulate public opinion about his opponents. Though Rosselló has since apologized for the texts, several of his associates have publicly denounced his language and have withdrawn their support. Puerto Ricans have also taken to the streets demanding the governor to step down; however, Rosselló insists he has not done anything that would warrant a resignation.
"I have not committed any illegal or corrupt acts," he said at a recent news conference. "I committed inappropriate acts and have expressed regret for that."
The leak also arrived just days after two former officials in the Rosselló administration were arrested by the FBI on fraud charges.
Bad Bunny is now encouraging Puerto Ricans to join him on the streets this week to protest the governor and corruption in politics.
"Don't stop yourself. We need to hit the streets. We cannot stop. I'm urging everyone to get out and protest," he said. "This Wednesday at 5 p.m. I would like to see all Puerto Ricans out on the streets. Let's go protest. There is no excuse [...] The system for years, decades, has taught us to keep quiet. It has manipulated our opinions, the press, and it has made us believe anyone who protests is crazy or a criminal. I want you all to know that it doesn't have to be that way. We all have the right to protest. I would love to see those who have never joined a protest to come out, without fear."
Bad Bunny and Residente have also shared a freestyle speaking out against the governor, with plans Wednesday for both artists to march alongside Ricky Martin in protest.