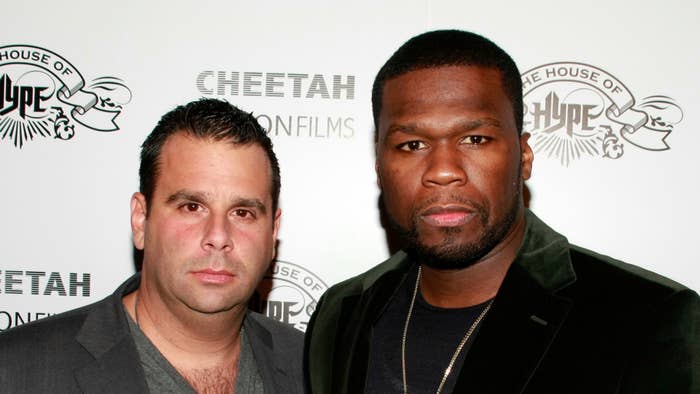 50 Cent has predictably weighed on Randall Emmett's misconduct scandal. 
Fif shared his thoughts via Instagram on Friday, a day after the Los Angeles Times published a bombshell piece accusing Emmett of offering acting roles in exchange for sexual favors. 
"See this is why I made him give me my Money by Monday," Fif captioned the post. "Then after he had to stay a 100 feet away from me."
Despite the jab, Emmett's team insists he has no issue with 50.
"Randall will always be grateful for his decade-long friendship with 50 and has great respect for the man," Emmett's representative toldUs magazine.
Fif began feuding with Emmett back in 2019, when he publicly accused the film and TV producer of owing him money. The G-Unit boss claimed he had loaned Emmett $1 million, and was growing frustrated by how long it was taking for Emmett to pay him back. In typical 50 Cent fashion, he began trolling Emmett—an executive producer of Fif's Power series—as well as his then-fiancée, Lala Kent. The drama unfolded on social media, before Fif announced Emmett had finally paid off his debt.
"I got my money, so I have no problem with @randallemmettfilms in fact I'm wishing him and his family a very blessed day," 50 wrote "😏positive vibes now guys. LOL #lecheminduroi #bransoncognac #bellator."
Famed attorney Gloria Allred is representing the actress who has accused Emmett of sexual misconduct. The woman claims she worked with the producer on multiple projects over the course of three years, and complied with his alleged requests to perform sexual favors in order to get acting jobs.
Allred outlined the allegations in an October 2021 letter addressed to Emmett. About three months later, the producer allegedly signed a settlement agreement that gave the accuser $200,000 in exchange for her silence. Emmett has denied the allegations, and claims it was part of a smear campaign launched by Kent, with whom he shares a child.
"These allegations are false and part of a now-familiar smear campaign orchestrated by Randall's ex-fiancée to sway their custody dispute," his representative Sallie Hofmeiste Hofmeister told Page Six. "Lala Kent has lied and manipulated others in her desperate attempt to win full custody of her daughter, keep her name in the press and remain relevant in reality television."