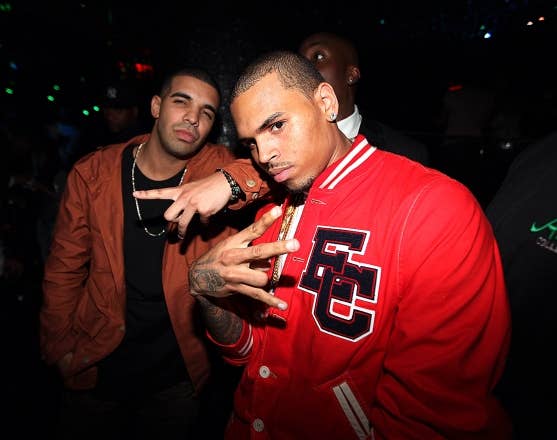 Drake's New Year's Eve bash was stacked with celebrities. But it was one star's presence that raised a few eyebrows. Chris Brown, whose string of misdeeds have made him persona non grata in the eyes of many, was in attendance.
Drake clearly didn't care who knew it, as evidenced by the Instagram pic he posted of the two of them looking very chummy. And as if to add fuel to the fire, Drizzy captioned the image with, "2019 cook up…Aubreezy," which suggests that the two artists have an upcoming collaboration planned.
While we can't confirm that they have in fact been in the studio together, some of Brown's detractors took the info and ran with it.
The potential collab is even more surprising considering that these two have a long history of feuding. In 2012, a brawl broke out at a New York nightclub when they were both in attendance. And in 2015, during an appearance on Hot 97, Brown, who was accompanied by Tyga, said of Drake, "We're not getting no check from talking about dude. We're giving him all this pub. We're us. I can't keep making these motherf*ckers famous. I'm responsible for reviving a lot of careers."
But clearly the past is behind them. During the Los Angeles stop of last year's Aubrey and the Three Amigos Tour, Drake brought Brown on stage, which left little doubt as to where these two stand.
Who knows if Brown can ever get back in the public's good graces? One thing we do know is that hopping on a song with the biggest artist in the world would be as good a place to start as any.