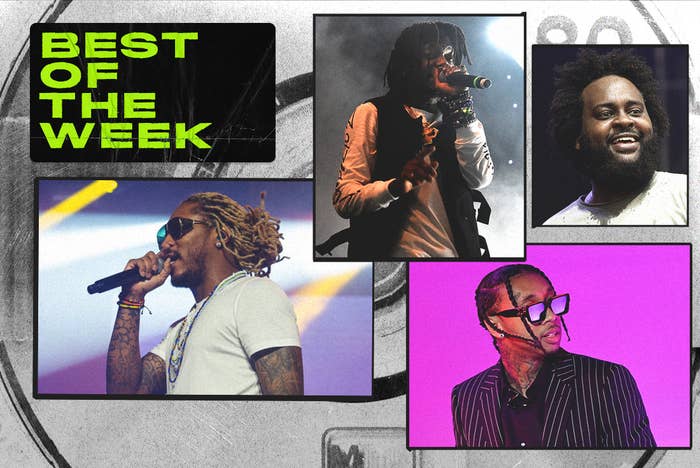 Remember this time last year, when summer officially kicked off not with the solstice, but with Pusha-T revealing that Drake was hiding a child? As chaotic as that time was, I really do miss it, between the rush of five straight weeks of GOOD Music and the precarious kingdom of the biggest rapper in the world. A year later, the most drama we've gotten is the breakup of Bradley Cooper and Irina Shayk (A Star is Born heads, stand up) and the Beyhive breaking bad on 'em. But we've also got sorrowful Future, the continued rebirth of Tyga, and, at long last, a Jai Paul comeback, so don't lose hope for this summer just yet.
These are the best songs of the week.
Future, "Shotgun''
Call me damaged but, fun as comma-fucking, Super Future is, that Future Hendrix sad shit is when he truly crystallizes. Emo Fewtch is always welcome in my iTunes, as long as Apple lets me have one. Save Me is a slam dunk of pettiness, depression, and self-deprecation that we should've expected a project titled as such to deliver.
But even though it samples Ciara's "Promise" (a classic in its own right and please remember Weezy F. Baby freestyling over it as a means of proposing to her as well), "Shotgun" is the exception, the sliver of hope that Future and his shorty can ball together in holy matrimony, over beautiful Detail production that evokes HNDRXX's tenderest moments. Don Draper thought he'd get it done the second time around with Megan, too, and we know how that turned out. But boy was it beautiful to watch him try in vain. —Frazier Tharpe
Tyga, "Too Many"
Tyga is John Wick. Not hip-hop's stand-in for a world renowned assassin, that is, but John Wick: Chapter 3 specifically. That film is currently one of the best reviewed movies of the year, critically acclaimed even. Why? Because it plays to our expectations and exceeds within their context; the film stays in its lane and drives beautifully. Audiences go to a John Wick movie to watch balletic, gorgeously choreographed action and violence, and each installment delivers on just that, ergo contentment.
We press play on a Tyga album expecting a similar stylistic conformity. I need West Coast-tinged bangers interchangeable for the whip, club, and any function I pull up to this summer. Still riding high off last year's return to form with "Taste," T-Raww is back and ostensibly committed to never trying to sell us on an auto-tuned heartbreak album again. Legendary sustainably spins different riffs on the same song, the same way Wick 3 holds our attention for a whopping 130 minutes. But there's arguably no finer moment than the intro, in which T is feeling himself and isn't be shy about it. No one who stages an unpredictable comeback should be, honestly. Talk your shit, [Last] King. —Frazier Tharpe
Bas f/ JID, "Fried Rice"
"Fried Rice" finds Bas and JID representing well for Dreamville Records. The juxtaposition between Bas' New York flow and JID's Southern drawl works nicely with the clanking, industrial beat, which refuses to settle down until the tail end of the track. The chorus is a little scattered, and truth be told the track doesn't need it, with both artists threatening to snap—in more ways than one—on their respective verses. Dispensable chorus aside, it's an all-around solid effort from two of Cole's most promising proteges. —Carolyn Bernucca
Bon Iver, "Hey, Ma"
Aw, shit, here we go again! *Cut to all of us curled up in bed, crying to the tune of Justin Vernon's sweet, sweet vocals* Bon Iver's latest opens with a minimalistic guitar riff and is centered around a single drum note reminiscent of Kanye's "Say You Will." Vernon's falsetto is as chill-inducing as ever, and the song continues the band's tradition of hazy reminiscence. It's not revolutionary, or particularly indicative of what's to come on their upcoming album, iCOMMAi, but it is the gossamer-like sound we've come to know and love. —Carolyn Bernucca
(Sandy) Alex G, "Gretel"
If you think you've never heard a (Sandy) Alex G song, you're wrong; those heartbreaking guitars on Frank Ocean's "Self Control" and "White Ferrari" are courtesy of the Pennsylvania native. Alex's solo music floats more in the lo-fi indie rock space, sometimes twangy, sometimes atmospheric. "Gretel," the lead single from his upcoming eighth (!) studio album, is described by Alex himself as a darker version of Hansel and Gretel (which influenced the entire album), in which Gretel allows her brother to be eaten and longs to return to the witch's house to eat more candy. The song truly does sound like a warped fairytale, with Alex's vocals buried beneath echo-y, guitar laden production, giving us a taste of what's to come from House of Sugar. —Carolyn Bernucca
Jai Paul, "Do You Love Her Now"
Jai Paul's long-awaited return was a twofer: not only did we get an official release of his leaked tracks circa 2013, we also got two new singles, "Do You Love Her Now" and "He." The former, a tale of not necessarily unrequited love, but rather asymmetrical love, is at once broody, uplifting, and lackadaisical, thanks to its staccato introductory guitar and the combination of both Jai's and Fabiana Palladino's airy vocals. Sexy and somber, "Do You Love Her Now" sounds like something your parents might play on a lazy Sunday afternoon, and is an exciting glimpse at what is to come from the influential producer. —Carolyn Bernucca