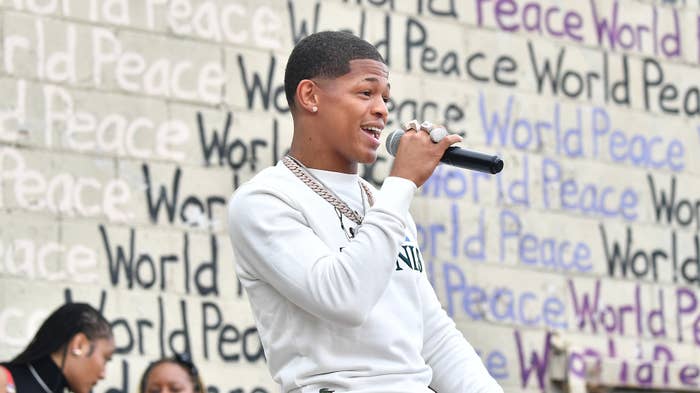 Just a few weeks after dropping $325,000 on a pair of earrings, YK Osiris took to Instagram on Monday to announce he's lost one of the diamond studs.
"I really lost one of my earrings, I'm sick," he wrote on his IG stories. "Please if anybody finds my other earring, can you return them please? I'm never getting another pair again. I can't believe this shit."
While speaking with the Shade Room, Osiris revealed he's offering a $60,000 reward to anyone who's able to return the jewelry. 
Back in November, the 23-year-old R&B singer showed off his recent purchase on social media. "325,000 on some pair of ear rings," YK wrote on Instagram. "The best investment I ever made." Hours later, Chad Ochocinco clowned Osiris for the purchase, writing, "I got the same earrings for $10 from Claire's."
From there, Osiris hopped on social media to fire back at the former NFL wide receiver. 
"Don't let Ochococo come up on Instagram talking 'bout he went to Clair's and got $10 earrings," he said in a video. "Hey, I salute you brother. I'm not saying that's even wrong. It's your life and that's your money. Do what you want with it. Ochococo mind your mutha…And I'm still rich bitch. Mind your business. Stay in your business. You can hit my DM, you ain't got to do all that capping for Instagram, man."
Later Thursday, Osiris shared an Instagram video captioned with several laughing emojis, writing, "these people really calling my damn phone, talking bout I found it mannnn wtf is wrong with these people."
In the post itself, he says before accepting a group FaceTime call, "People really calling, talking about they found my goddamn earring, watch this y'all."
He elaborated on his Stories, saying his "number just got leaked" and telling callers, "I'm normal just like you—leave me alone!" He also confessed he's "never buying another pair of earrings again, I don't care—y'all was right and I appreciate y'all, man, y'all was right, that was the dumbest shit I ever did."