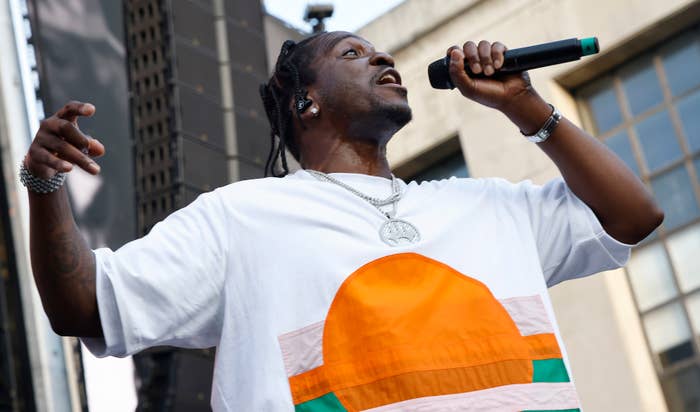 In the two months since the release of It's Almost Dry, Pusha-T hasn't shied away from declaring his latest offering the best rap album of 2022.
During a show at the Novo in Los Angeles earlier this month, the legendary Clipse member didn't mince words.
"It's Almost Dry; rap album of the motherfucking year," he said to the crowd. "They can't fuck with me!"
Granted, Push isn't the only one who thinks It's Almost Dry is one of the year's best releases, as Tom Brady reiterated the Virginia rapper's bold claim on Twitter this week. "Album of the year!" the Tampa Bay Bucs quarterback tweeted at Pusha.
With his Rap Album of the Year campaign gaining steam, King Push recently sat down with HotNewHipHop to discuss It's Almost Dry, which in May earned him his first career No. 1 album.
"I drop when I drop, and when I drop, I just want it," he said of the Rap Album of the Year title. "I want what's mine. They can have all the other years and they can put out five albums a year of mid and they can keep doing that. That's fine. But when I drop, I want what I want and that is Rap Album of the Year. And it's okay."
As for what other albums belong in the conversation, Pusha gave props to Kendrick Lamar's latest effort Mr. Morale & the Big Steppers.
"I think Kendrick's album… I think he made a strong album," he said. "I think his album is definitely a conversation piece, for sure. I think that Kendrick does what he does lyrically. I think… man, it was impressive. I think it was impressive, for sure. I think it's great competition. It's a matter of what you want to hear. I feel like for what it is that I do and what I was going for, and like I said, this is Rap Album of the Year to me. It's Almost Dry. That is the mood and that is the energy. I think I put out that type of energy. I don't think me and Kendrick made the same type of album, at all. It's two different listens."