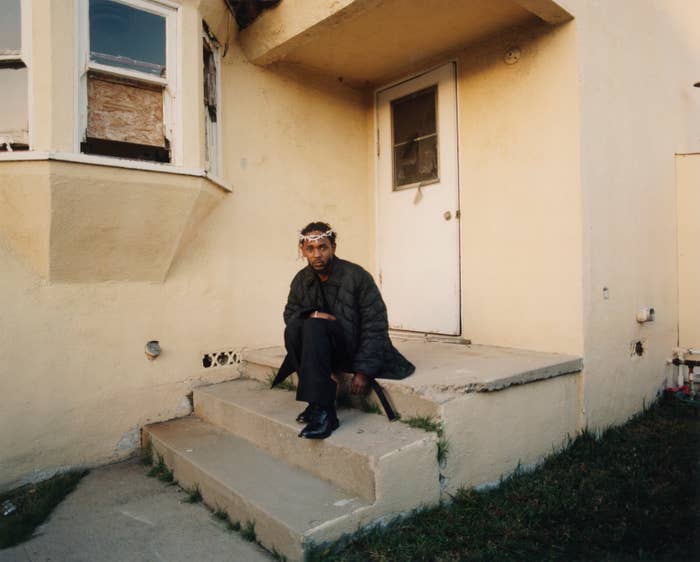 Kendrick Lamar's new album Mr. Morale & The Big Steppers covers a lot of ground, densely packed with nuanced lyrical themes. 
It's impossible to pick up on everything in the first 24 hours, and we're sure new concepts will keep revealing themselves over time, but on first listen, a handful of important themes have emerged. Listening to Mr. Morale, it's clear that Kendrick has been thinking a lot about issues like therapy, relationships, celebrity, cancel culture, and spirituality.

As we continue to internalize everything Kendrick is communicating on the 18-track double album, we broke down 10 of the major lyrical themes on Mr. Morale & The Big Steppers. By no means is this a comprehensive list, but it is an overview of some of the bigger concepts on the album.
Kendrick, like many celebrities, is no fan of so-called "cancel culture." He explicitly questions, "What the fuck is cancel culture, dog? Say what I want about you niggas, I'm like Oprah, dog," on "N95," before rapping, "Oh, you worried 'bout a critic? That ain't protocol." And on "Saviors," he further affirms where he's at artistically: "Fun fact, I ain't taking shit back."
On "Worldwide Steppers" he theorizes the death of freedom of speech, chastising, "The media's the new religion, you killed the consciousness." Then he sarcastically rhymes, "If your opinion fuck 'round and leak, might as well send your will," before opining that "the industry has killed the creators, I'll be the first to say." He's not the first hypothesizer of criticism as creative doom. Comedians like Dave Chapelle, and most recently Howie Mandel, have said that the backlash from marginalized groups who won't accept being ridiculed in comedy could be the "death of comedy." And like Dave, he's resolved to say what he feels, consequences be damned. 
He's bowing out of being anyone's leader on "Savior," where he snidely calls out the "two times center codefendant judging my life." Elsewhere on the song, he challenges his peers to also express themselves, without fear of backlash, rhyming, "Bite they tongues in rap lyrics/ Scared to be crucified about a song, but they won't admit it." He finally speaks on being criticized for his relative silence during the 2020 uprisings, rhyming, "I seen niggas arguing about who's blacker/ Even blacked out screens and called it solidarity/ Meditating in silence made you wanna tell on me."  
It's worth considering that Kendrick's disdain for judgment is a reflection of his longstanding assertion that he's an admittedly flawed person on a self-first mission, as he thinks others are and should be. On "Mirror," he states, "Sorry I didn't save the world, my friend/ I was too busy buildin' mine again," admitting, "darlin', my demons is off the leash for a moshpit." He also rhymes, "Lately, I redirected my point of view/ You won't grow waitin' on me/ I can't live in the Matrix/ Rather fall short of your graces." "Mirror" appears to personify his fanbase as a woman he's in a relationship with, and he tells her, "Don't you point a finger, just to point a finger/ 'cause critical thinkin' is a deal-breaker." We can't say he never told us. 
But this worldview doesn't just apply to thinkpieces and tweets. While reflecting on his fight-or-flight response to witnessing violence on "Mother I Sober," he depicts being "in the shadows clingin' to my soul as my only critic." He's not just apathetic about music critics; he's not prioritizing anyone's outside opinion. —Andre Gee
Kendrick opens Mr. Morale by telling us he's been "going through something" on "United in Grief," before revealing he's speaking with a therapist. The concept of going to therapy and healing from familial trauma and generational curses is baked throughout the project. On "Father Time," one of the most personal songs on the album, he explores his own "daddy issues" and how toxic masculinity has affected the way he views the world. He tackles the way mental wellness is stigmatized in the Black community, and how he was raised to push his traumas to the side because "real niggas don't need therapy." Because Mr. Morale focuses on peeling the curtain back on Kendrick's personal life, it's even more powerful to know that he was able to unpack these thoughts by taking the step toward going to therapy (it's fitting that this album was released during Mental Health Awareness Month). Many of the project's most introspective moments, like "Mother I Sober," sound like they were ripped directly from Kendrick's counseling diary after his most crucial sessions. On the song, he reveals that therapy was the reason he was able to unpack his own traumas, and process the effects of abuse. Working through his own issues like a therapy session, he's unafraid to illuminate topics that are often taboo in many communities. —Jordan Rose
Like every Kendrick album, Mr. Morale explores how spiritual praxis guides his eternal search for meaning and provides him solace when he can't. He doesn't pinpoint one particular religion he's subscribed to, but his lyrics reference teachings from all over the globe, from Christianity to Eastern religions and African spiritualities. 
Kendrick explores his (and his loved ones') missteps throughout the album, which understandably brings the notion of karma into play. On "Count Me Out" he rhymes, "One of these lives, I'ma make things right/ I know karma like to follow us strong," before noting, "Anytime I couldn't find God, I still could find myself through a song," a sly reference to his inner divinity, as well as the healing power of music. He also references past lives on "Rich Spirit," where he notes, "I pray to God you actually pray when somebody dies/ Thoughts and prayers, way better off timelines/ False claimin' not cute, I'm mortified," offering his thoughts on a society that he feels practices faith with Twitter fingers instead of clasped palms. On "Mother I Sober," he posits, "transformation, then reciprocation, karma must return."
Elsewhere on "Mother I Sober" he discusses how trauma can knock us off our square, reflecting on his mother being a victim of violence, grappling with whether he should've bought a gun and helped her. Then he surmises, "Where's my faith? Told you I was Christian, but just not today." In the next bar he raps, "I transformed, prayin' to the trees, God is taking shape," offering one of the album's recurring depictions of him seeking spiritual solace in nature.  
"Worldwide Steppers" contains his memory of "prayer to the flowers and trees /Gratification to the powers that be." He follows that up by rapping about "synchronization with my energy chakras, the ghost of Dr. Sebi/ Paid it forward, cleaned out my toxins, bacteria heavy," referencing the idea that in the mind-body-spirit connection, all three should be cleansed—and the purity of nature is the cleanest place to do so. Elsewhere on "Mother I Sober," he rhymes, "Water watchin', live my life in nature, only thing relieves me/ Spirit guide whisper in my ear, tell me that she sees me."
It's worth noting that his alter-ego Oklama, seen in the production credits of several tracks, is a term that means "my people" to the indigenous Choctaw nation. Is that a subtle reference to the metaphysical theory that humanity and nature is all connected? That would further explain why depictions of worship in nature are so prevalent on the project. Perhaps for him, being in nature is parallel to fasting with a love interest, as he depicts on "Purple Hearts," rhyming, "I barely went to church, I'd rather fast with you."
Kendrick reflects on going through trauma of all sorts on Mr. Morale & The Big Steppers, but it's evident that spirituality has been a north star for him. —Andre Gee
Eckhart Tolle, a spiritual teacher and author from Germany, plays a big role on the album. First, Kendrick's fiancée Whitney Alford tells Kendrick he needs therapy, suggesting, "Reach out to Eckhart." Then, at the beginning of "Worldwide Steppers," the album's defacto narrator Kodak Black introduces the project's three central figures: himself, Oklama, and Echart Tolle, whose voice appears throughout the rest of the project.
Eckhart Tolle's voice, which appears to be taken from passages of his audiobooks, is used on several songs. He takes on the role of a spiritual teacher and a therapist for Kendrick. At the beginning of "Savior (Interlude)," for example, Tolle says, "If you derive your sense of identity from being a victim… Let's say, bad things were done to you when you were a child, and you develop a sense of self, that is based on the bad things that happened to you." We hear Tolle's voice before some of Kendrick's most personal, soul-baring moments on the album.
Tolle is most famous for his book The Power of Now, which explores the philosophical and spiritual benefits of living in the moment. In the book, Tolle explains that the present moment is the only thing that matters—letting your mind get consumed with thoughts about the future or the past will only bring pain and distract you from experiencing the present. At its core, the book centers around the idea that people's emotional problems are rooted by identifying with their minds.
It seems that Kendrick's real-life connection with Tolle dates back at least a couple years. There are photos on the internet of the two sitting down together a little over two years ago. And on Mr. Morale, Kendrick takes Tolle's teachings to heart in his own lyrics. On "Mother I Sober," he embraces Tolle's philosophy that ego (an identification with one's own thoughts) is destructive, rapping, "Ego must die, but I let it purge." —Eric Skelton
Kendrick closely analyzes his romantic relationships throughout the album, taking stock of pivotal moments in his life as they pertain to his maturity and personal connections. On "Worldwide Steppers," which appears third on the album's tracklist, he seemingly addresses infidelity, or at least desires that extend outside of his current relationship. "Next time I fucked a white bitch/ Was out in Copenhagen/ ​good kid, m.A.A.d city tour/ I flourished on them stages," he raps. "Die Hard" is a more reflective track that attempts to analyze his difficulty with opening up and showing vulnerability. "My truth too complicated to hide now/ Can I open up? Is it safe or not?/ I'm afraid a little, you relate or not?" he asks. "We Cry Together" is the most blatant in its messaging. The song is basically an argument between two lovers, played by Kendrick and Zola actress Taylour Paige. On the track, we hear a vicious back and forth where each side hurls insults at the other while highlighting their biggest insecurities. It's a jarring track that isn't always easy to listen to, but it hits home hard for those who can relate. —Jessica McKinney
On albums like To Pimp A Butterfly, Kendrick has pushed back on perception from some fans that he's a flawless individual who will solve the world's problems. And on Mr. Morale, he explicitly states he's not a savior, rapping in the third person: "Kendrick made you think about it, but he is not your savior." This message extends beyond just himself, though. Naming other celebrities who are expected to be saviors, Kendrick raps, "Cole made you feel empowered, but he is not your savior/ Future said, 'Get a money counter,' but he is not your savior/ 'Bron made you give his flowers, but he is not your savior."
Later on "Savior," Kendrick pushes back against the narrow confines of the box many have put him in. Comparing himself to controversial collaborator Kodak Black, he raps, "Like it when they pro-Black, but I'm more Kodak Black." It's a theme that extends throughout the album, as he openly addresses his own flaws, resisting the idea that he (or most other celebrities) are the anointed saviors that many perceive them to be. Instead, he presents himself as a flawed but well-intentioned human who is working through his own battles. —Eric Skelton
There are multiple references to Kendrick's desire to be a good father on Mr. Morale. On "Worldwide Steppers" he raps, "Playin' 'Baby Shark' with my daughter/ Watchin' for sharks outside at the same time/ Life as a protective father, I'd kill for her/ My son Enoch is the part two/ When I expire, my children'll make higher valleys."
It's telling that Kendrick, like so many of us, gauges his love through violence. That's to be expected in a violent world, but Kendrick is trying his best to give his kids a better experience than his. He'd "kill for her," but more importantly, he's willing to reflect and heal for her and his son. He opens up "Mr. Morale" noting, "Enoch, your father's just detoxed, my callin' is right on time/ Transformation, I must had a thousand lives, and like three thousand wives." He opens up a later verse by rhyming, "Uzi, your father's in deep meditation/ My spirit's awake and my brain is asleep," reflecting that his awakening is not only good for his soul, but his parenting prospects. 
On "Mother I Sober," he reflects on rampant abuse, the addictions and temptations he fell for as a result of it, and why he doesn't want his kids to repeat the cycle. He rightfully points to American chattel slavery as the root of Black people's unhealthy family structures:
I pray our children don't inherit me and feelings I attract

A conversation not bein' addressed in Black families

The devastation, hauntin' generations and humanity

They raped our mothers, then they raped our sisters

Then they made us watch, then made us rape each other
The track ends with a woman, conceivably his fiancée Whitney, telling him, "I'm proud of you. You broke a generational curse." —Andre Gee
"Auntie Diaries" is an important song for rap. Many rap consumers, namely cishet men, still say "pause" and find it challenging to associate with the LGBTQ community, which is why it's refreshing that Kendrick is open about having two trans family members and loving them. 
He speaks about his aunt first, who is a trans man that his other family members and classmates treat awkwardly. But while everyone disrespects him, Kendrick sees a hero who he can't wait to ride and bump DJ Quik with. Kendricks' relationship with him helps the rapper become more tolerant of people of other identities, as does his cousin Demetrius, who is now a trans woman known as Mary-Ann. 
Kendrick rhymes, "They said they never seen it in him, but I seen it," reflecting on them playing with Barbies and not being as willing to laugh at the F-bomb as their childhood peers. And while the song is noble, it's also polarizing, with many people not being a fan of Kendrick chanting the F-word during various parts of the song. It's clear that he's not using the word as an immediate derogation, and merely reflecting on past times that he regrets, but listeners in the LGBTQ community have expressed that hearing the word from a straight man is triggering in any context. While others seek to defend the song because of its intent, it's important to be in the spirit of the song by accepting that we can't counter how they feel about slur usage if their identity is not our lived experience. 
The F-bombs are unfortunate because neither his aunt or cousin appear to identify as a gay man, which means the slur needlessly turns a powerful song into a polarising one. Nonetheless, hopefully more artists and listeners absorb "Auntie Diaries" and become more tolerant of other identities. As Kendrick is imploring throughout the album, people are people. —Andre Gee
Family ties and trauma run deep on this album. One of the central themes of Mr. Morale is how success and fame are only topical remedies for the deeper-lying scars that cyclical violence and unchecked baggage produce. "Mother I Sober" is the most potent and personal example of Kendrick bringing his family trauma to wax. He discusses abuse, including his mother being assaulted, and how it made him feel a sense of powerlessness and guilt. This is tied closely with the family trauma that Kendrick discusses throughout Mr. Morale. He feels guilty about being unable to unpack his own childhood trauma until he finally went to therapy. He feels guilty about misunderstanding his transgender aunt and using homophobic slurs without considering how it would affect them. While he conflates some of these issues, ("dancing" around the subject, as symbolized by the tap dancing that can be heard at the beginning of some songs) his uncertainty slowly fades away as the album progresses. Kendrick illustrates how family trauma is cyclical and generational, and the only way to break those toxic cycles is by addressing them directly, as he does on "Father Time," "Auntie Diaries," "United in Grief," and more. Even his cousin Baby Keem gets introspective on "Savior (Interlude)," where he raps about being on tour and earning a lot of money, only to buy his uncle a casket when he finally got home. Oftentimes, familial trauma persists because it's never discussed openly and honestly. By looking inwards, Kendrick was able to finally dissect why he is the way that he is, and now as a father of two, he realizes that he has to digest those painful memories and experiences so that his son and daughter aren't victims to the same emotionally repressed childhood that he had. —Jordan Rose
Kendrick tackles friendships and how they evolve due to fame. Where this theme differs from some of the other issues on the album is that Kendrick doesn't always attack this subject by using his own relationships. On "Father Time," he points the spotlight on Kanye and Drake's friendship. "When Kanye got back with Drake, I was slightly confused/ Guess I'm not mature as I think, got some healin' to do," he raps on the Sampha-assisted track, using their friendship to illuminate things about his own personal relationships. On "Crown," he grapples with the weight of responsibility that's on his shoulders due to his status, and how he's always being asked for favors by friends and family. Out of sheer love, he's willing to do anything, but he's also forced to come to terms with the fact that he cannot please everyone. —Jessica McKinney