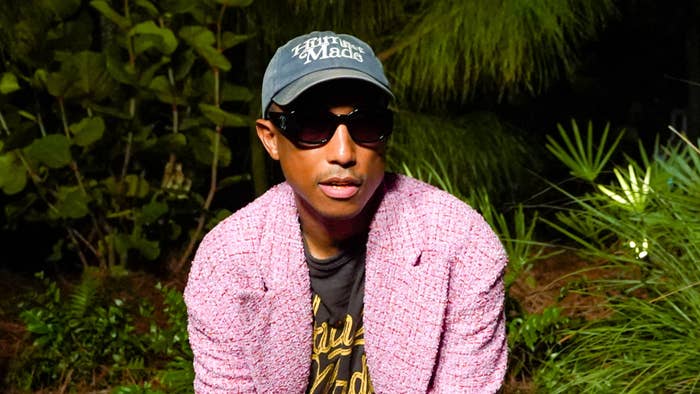 After a two-year hiatus, Pharrell Williams' Something in the Water music festival is back, and it couldn't be returning at a better time.
The hip-hop legend is bringing the festival to the nation's capital in Washington DC on Juneteenth weekend, from June 17 to 19. In 2020, Pharrell was instrumental in helping Juneteenth become an officially recognized holiday in his native Virginia, and holding the festival on that weekend is extra meaningful for him.
Something in the Water first took place in Virginia Beach in 2019, but it hasn't happened since then because of the COVID-19 pandemic. Now, after a long break, it's returning in style. Expanding to three stages, the festival will take place directly on Independence Avenue in the National Mall. Produced by Redrock Entertainment and Live Nation, this year's event boasts a stacked lineup of performers, including Tyler, the Creator, Lil Baby, Lil Uzi Vert, Pusha-T, Chloe x Halle, Snoh Aalegra, Roddy Ricch, Omar Apollo, and more of Pharrell's "friends" who have yet to be announced.
Pusha-T's inclusion on the festival's lineup is particularly exciting, considering the recent release It's Almost Dry, which was produced by Pharrell and Kanye West. Push and Pharrell have a working relationship that spans multiple decades, but Pharrell says that working with the fellow Virginia artist on this album inspired him to tap into a "dark," more menacing production bag than he's touched in years.
Three day passes for the festival go on sale to the general public beginning Saturday, April 30 at 10:00 a.m. local time on the Something in the Water website. And while the event won't be taking place in Virginia Beach this year, Pharrell has plans for initiatives and community engagements that will help support the 757. Virginia residents will also have access to a "Virginia Locals Only" presale taking place on Friday, April 29 at 10 a.m.

With Something in the Water just a few months away, we spoke with Pharrell about bringing his festival to the nation's capital, his favorite memories from working on It's Almost Dry, and how the two were able to make the album as "maniacal" as possible.
Congratulations on the return of Something in the Water. How meaningful has it been for you to bring the festival back, and have it on Juneteenth in the nation's capital?
Super meaningful, and thank you for pointing out the symbolism there for me. We worked really hard to help [Juneteenth] become a holiday. It's a holiday in the state of Virginia now, and soon after, the federal government followed. I ain't gonna say it was because of us. It was just great timing because we needed that. We needed that time of the year to be significantly recognized for all the stuff that African Americans have gone through in our 400-plus-year time here. And to be able to have [Something in the Water] in our nation's capital is a beautiful thing, too. The impetus of Something in the Water is that we wanted to take it to the highest platform, and this is the Washington Mall. 
The lineup for the festival is stacked. Who are you most excited for?
I'm just happy about the spectrum. The amount of artists we got, it's really good stuff. Really amazing careers, and also the ones we can't announce, those are some super special ones. I'm grateful. It's going to be crazy. Between the lineup, where it is, the significance of having it on Juneteenth weekend, and the space is literally Independence Avenue, Washington Mall. Our big corporate sponsors that are coming in, and all the panels that they want to put on, and the giveback that we're going to have for the 757 is amazing. 
Pusha-T is on the lineup, and you produced half of his new album, It's Almost Dry. Do you have a favorite memory from making the album with him and Ye?
My favorite memory was his willingness for us to go deeper into reinvention mode, and his discipline. His discipline was so amazing. We stuck with what we said we were doing like crazy people. And I hadn't gone dark in a long time. It had been a minute. It was just fun to really dive into that world and give that character everything it needed to fully express itself without compromise.
I heard that you and Push would wake up at 6 a.m. and ride bikes before getting to work because you're both early risers. Push also revealed that you warned him about becoming a "mixtape rapper." What inspired that comment?
Two things. First, we did get up early and work in the morning because I'm a perpetual student, and that's the reason why we send our kids to school very early in the morning. That's when the brain is most awake, and I'm a perpetual student, so we were up in the morning.
The second thing is: He's so disciplined about the version of himself that he had chosen to give the world all these years. Each of us has 64 notes, and he picked an octave to say, "OK, this is the only thing that I will give to the world." And I wanted him to play outside of those things. Like, that laugh that's on the album, I'm not making that up. He's not acting. That's literally who he is. He's so karma-based that he loves when karma comes back to strike. It tickles his soul like a little child. So when you're hearing him say those things, I strategically placed those laughs where those bars are, because those bars hit you the same way that karma hits him, and he laughs. So I wanted people to know that about his personality. "Might buy your bitch a jeep. I can make you lose your sleep." That laugh, he means that! He really finds joy, and that's his happy space. He loves karma. 
"That laugh that's on the album, I'm not making that up. He's not acting. That's literally who he is. I strategically placed those laughs where those bars are."

For me, I've known who Arthur Fleck was all my life. It's him. That's who the fuck he is. He's really that. And he hadn't seen Joker. That's the funny thing. I had to get him to watch it. He hadn't even seen [the movie], and when I got him to watch it. I was like, "Bro, you know this is you, right?" And at first, he thought I was kidding. I had to tell him I wasn't kidding. He's watching the shit that he does, and he's like, "Oh, this is me." Literally, we really did look at Joker. We looked at it the whole time and just kept it on mute, and if a beat didn't match it, it didn't make it. If the verses weren't maniacal enough, it didn't make it. And if I couldn't find a good place to put his guttural laugh… because he does this thing where he laughs high-pitched in a loop. He does it until he's out of breath. He loves it, and there's nothing better than that.
Is there anything else you want people to know about Something in the Water?
Come and have a great time! All kinds of human beings are coming to hang out and celebrate with us during Juneteenth weekend on Independence Ave, and it's going to be love. The lineup is epic, and again, the leave-behinds for the 757 is going to be amazing and beautiful, because this really was a Black solution to a systemic issue. The idea that we get to take that to DC, and still give back to the 757, it's beautiful.