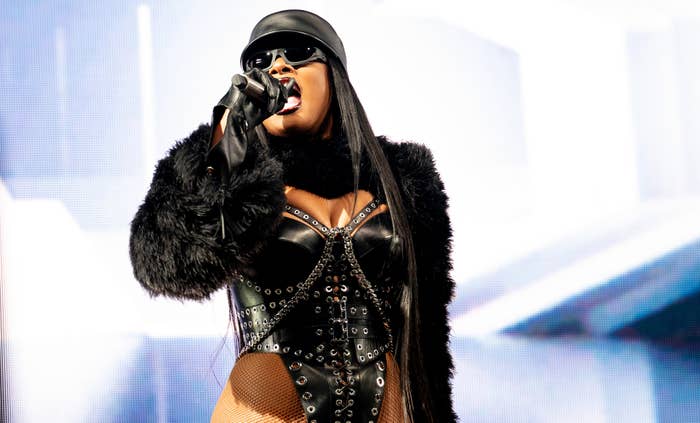 Just two days after the Supreme Court's ruling to overturn Roe v. Wade, allowing states to outlaw abortion, Megan Thee Stallion spoke out against the decision while performing at the Glastonbury Festival.
The rapper called out her home state while onstage during her set Saturday night. "Texas [is] really embarrassing me right now," she said. "I wanna have it on the record, that the hot boys and hot girls do not support this bullshit that y'all campaigning for."
From there, Megan urged everyone in the crowd to chant "My body, my motherfucking choice."
Hours after the ruling was announced on Friday, Megan took to Instagram to blast the Supreme Court for its decision, before imploring her followers to join Planned Parenthood's Bans Off Our Bodies movement.
"The court has failed us all — but we won't back down," she wrote. "I'm going to keep fighting because everyone deserves access to the care they need."
Megan isn't the first rapper who's pledged their support for Planned Parenthood in light of last week's ruling. Lizzo on Friday announced that she's teaming up with Live Nation to make a significant donation to Planned Parenthood. 
"I'm pledging $500k from my upcoming tour to Planned Parenthood," she wrote on Twitter. "Live Nation agreed to match— to make it 1 MILLION dollars."
Lizzo continued, "The most important thing is action & loud voices. @plannedparenthood @abortionfunds & organizations like them— will need funding to continue offering services to people who are most harmed by this ban."