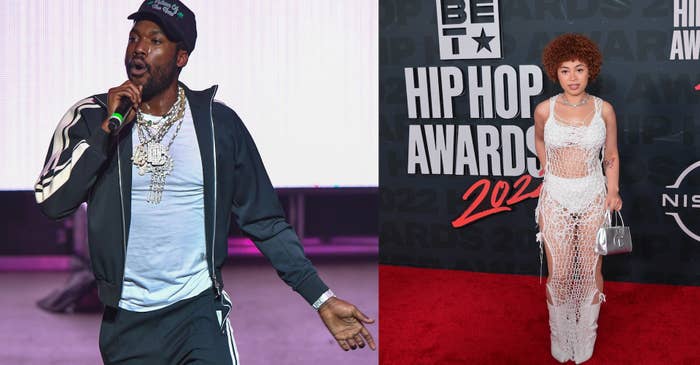 The meteoric rise of Ice Spice is taking the rap game by storm, as the Bronx native has catapulted into the mainstream on the strength of her viral hit "Munch."
Since its release in August, the New York drill anthem has amassed 2.4 billion views on social media, en route to peaking at No. 34 on Billboard's Hot R&B/Hip-Hop Songs chart.
Over the weekend, Ice Spice received a co-sign from Meek Mill, who hopped on social media to tease a snippet of an unreleased freestyle over "Munch."
Meek isn't the first A-list rapper who's teased a remix to Ice Spice's breakout single. Earlier this month, Cardi B took to Instagram to share a video of herself rapping over the the Riotusa-produced beat. 
Shortly after teasing the unofficial remix, Cardi maintained that it won't see an official release."I'm not putting that song out by the way," she tweeted. "You know I don't tease."
Though Meek hasn't confirmed whether he'll officially release a remix to "Munch," the Philly rapper on Monday announced the forthcoming release of Flamerz 5, which he says will drop in two weeks. 
Meanwhile, Meek will also celebrate the 10th anniversary of his debut album, Dreams and Nightmares, with a a special homecoming concert at Wells Fargo Center on Nov. 26. Tickets for Meek Mill + Friends Dreams and Nightmares 10-Year Anniversary concert will go on sale this Wednesday at 10 a.m. at WellsFargoCenterPhilly.com.