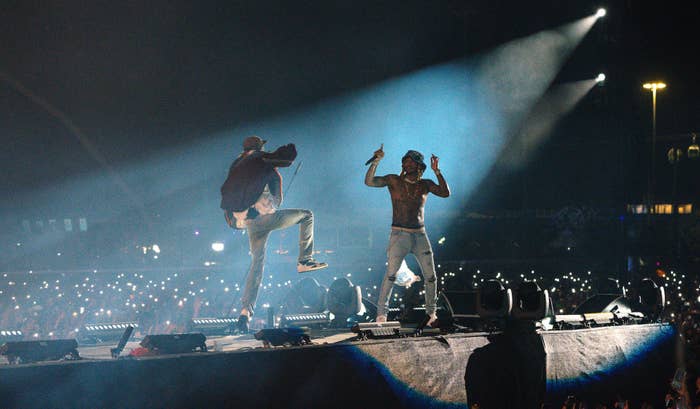 Future closed his performance at Rolling Loud Miami on Saturday night by bringing out Travis Scott, who earlier this week was asked to headline but couldn't commit to the festival on short notice.
The duo performed their Southside-produced collaborative single "Hold That Heat," before Travis launched into a medley of his classic hits "Goosebumps," "Antidote" and "No Bystanders."
Scott's surprise appearance comes just days after co-founder Tariq Cherif initially said the venue wouldn't permit the Houston rapper to perform in the aftermath of the Astroworld festival tragedy. 
"Tried to convince Ye to stay on the lineup but he wasn't having it 🤷‍♂️," Cherif wrote in a since-deleted Instagram post, following it up with, "venue won't allow Travis because of Astroworld deaths."
A spokesperson for Rolling Loud subsequently clarified Cherif's comments, saying that the festival couldn't book Travis merely because he was unable commit to Rolling Loud due to the short notice he was given.
"We reached out to Travis to headline Rolling Loud, but it couldn't work in such a short time," the spokesperson said. "This had nothing to do with any restrictions from the hosting venue Hard Rock Stadium."
Watch Future bring out Travis Scott during his set at Rolling Loud Miami up top.