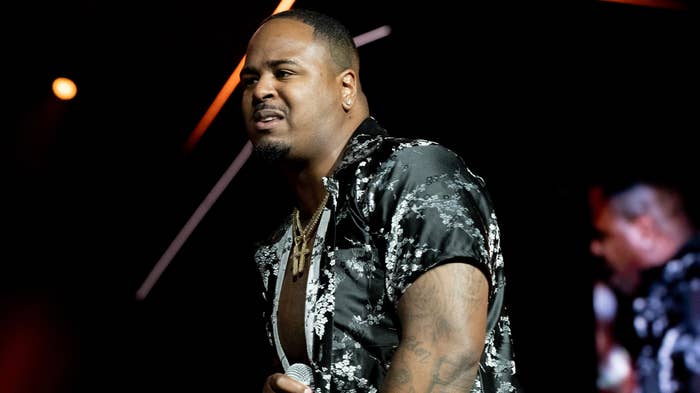 Less than a week after the tragic death of Drakeo the Ruler, the late rapper's brother, Ralfy The Plug, took to Instagram to share a tribute to the 28-year-old Los Angeles native.
"His name gone forever live on," Ralfy wrote alongside a photo of Drakeo. "Literally was a king that got it out the mud and I watched it all from the start. From recording all yo lil freestyle and post 'em on YouTube [to] smoking on the porch waking everybody up to spit this hard ass shit you be coming up within 10 minutes effortlessly to going to camp."
Ralfy continued, "Every time I get out, you go back; every time you get out I went back. Beating indictments starting yo own label and even getting a song with drake, biggest artist in game. And you did it by yo self. You was a self made boss and a leader. You was my idol and big brother and I learned a lot from you and I'm definitely gone make sure they still know the truth."
Ralfy was backstage when Drakeo was fatally stabbed last Saturday night at the Once Upon a Time festival concert in Los Angeles.
Earlier this week, Drakeo's mother, Darrylene Corniel, told Rolling Stone her sons were accompanied by a small group of people backstage when an even larger group, totaling "like 40 to 60 people," arrived around the same time as YG, and "swamped" her son and his entourage. "Everything just happened so quickly," she said. "They started trying to jump them." 
Corniel plans on filing a lawsuit in the wake of her son's death. 
"We plan to sue," Corniel said. "This happened backstage at an event. Someone has to be held accountable. He was hit in his neck. I saw him when I went to the hospital. They said it's a homicide, so I wasn't able to hug him or kiss him or anything like that. I had to look at him through a window." 
Corniel added, "I need this to be out there. I need people to know. And I do want justice for my son. And I do believe that justice will be served. I will not rest until justice is served."