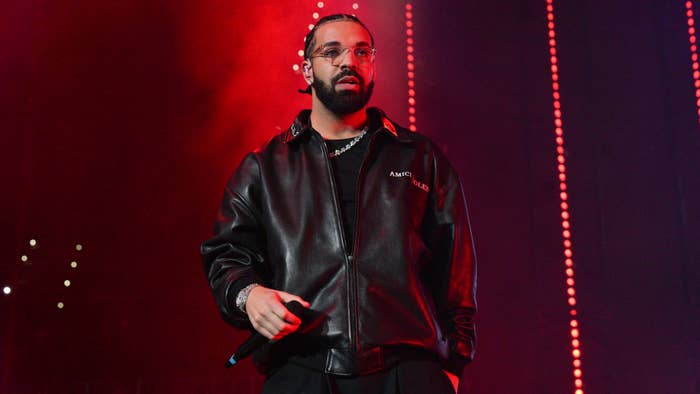 Drake gave $50,000 to a fan who spent furniture money on tickets to the rapper's It's All A Blur Tour.
Drizzy's giveaway took place at the Toronto native's latest tour stop in Las Vegas. While speaking to the crowd during the show, Drake noticed a sign written by a fan who spent money that was supposed to be used to decorate his home on two tickets to It's All A Blur.
From there, the 6 God seemingly made a decision on the spot: Give the fan $50,000 for his troubles.
"He got a sign that says, 'Drake, I spent my furniture money on your two shows, OVO for life,'" Drizzy explained in the below clip. "You know what, my man, your furniture money, I'mma give you 50 bands 'cause I love you. Make sure he gets his money tonight. That's some real shit, I fuck with you."
Drake added, "Listen, this is what life is about. I'm trying to teach you something tonight. I want you to understand something tonight. You never know what the next person is going through. You never know what the person in front of you, to the left of you, to the right of you, behind you, is going through."
The news arrives on the heels of another giveaway, which featured Drake gifting a woman in the crowd a Chanel bag during his concert at Crypto.com Arena lat month.
Meanwhile, fans are still waiting on the imminent release of the rapper's forthcoming album For All the Dogs.
During his tour stop in Las Vegas on Friday, Drizzy assured fans that his next full-length offering is "coming real soon," adding that he might announce the official release date at his concert in Vegas on Saturday (which didn't happen).
"I know y'all worried about this album like you think I'mma wait till like next year to drop this shit," the Canadian star told the crowd. "I promise you, I'm not. I promise you. I got a album coming out called For All the Dogs. It's like—I know I say this a lot, it's real close I, I, I might give you the date in Vegas maybe tomorrow night, I don't know. I gotta go listen to it one more time. It's coming. It's coming real soon."