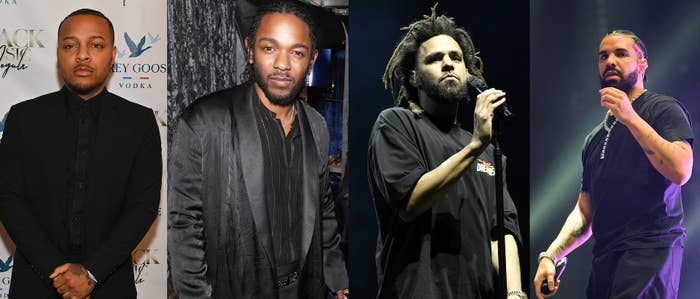 Bow Wow isn't shying away from expressing his lack of belief in the current generation of rappers.
During an interview on the red carpet of the BET Hip Hop Awards, the 36-year-old shared his thoughts on how the genre hasn't landed an album or song atop the Billboard 200 or Hot 100 this year. According to Bow Wow, the blame lies with "n***as putting out trash ass music."
He continued in the clip below, "Serious—everything sound alike, everything repetitive, same tempo—it's just roll out the bed, everybody can do that. It wasn't like that. ... And now we finally getting to a point to where I feel like now it's about to shift back into the real shit."
Bow Wow went on to say hip-hop is now lacking the talent that makes music "last forever," and that MCs need to focus on "artistry" that results in "real good music."
"You really gotta have talent, you really gotta go," he explained. "I think people are starting to get tired of it now, that's why you don't see nothing charting. ... Ain't nobody doing nothing different. So it's time to shake the game up and get it back to what it need to get back to. ... I ain't heard nothing that I say, 'I'mma hear this 30 years from now.'"
The exceptions? "Drake, Kendrick, and, I would say, Cole."
Luckily for Bow Wow, Drake appears preparing to drop a new album. Over the weekend, the Toronto superstar released a poetry book, which included a QR code that took fans to a website announcing Drizzy is gearing up to drop music.
"I made an album to go with the book... They say they miss the old Drake girl don't tempt me," reads text on titlesruineverything.com. "For all the dogs."