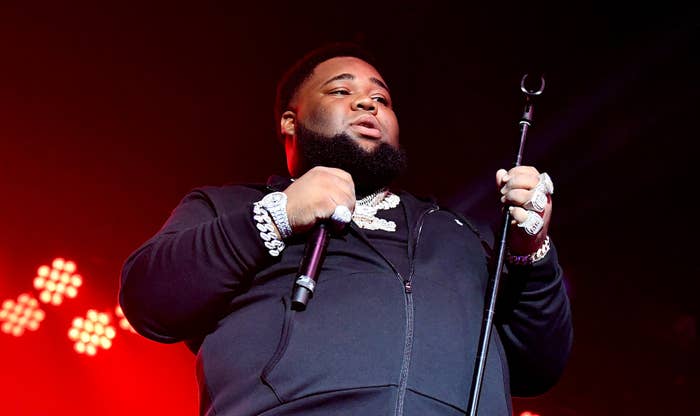 UPDATED 5/19, 1:45 p.m.: Rod Wave has been cleared.
Citing legal documents filed in Osceola County, TMZ reports prosecutors "reviewed the May incident, and determined the case wasn't suitable for prosecution."
See original story below.
Just over a week after Rod Wave was booked into jail on a felony charge of battery by strangulation, a new arrest affidavit sheds more light on the alleged domestic violence incident involving the Florida artist.
The Tampa Bay Times reports Wave, born Rodarius Marcell Green, is accused of choking his ex-girlfriend on April 24 while their two children were in the home.
The unidentified victim, who had a scratch located "near the left center of her neck," told police she had been asleep in her bed when Wave walked in and choked her until she couldn't breathe.
The woman told police she dated Wave for four years and that they have two children together. She claims he attacked her after accusing her of talking to other men. The couple's two children were in their own bedroom when the alleged incident occurred. 
A rep for Rod Wave declined to comment on the situation when reached by Complex.
As previously reported, Wave was pulled over on May 2 "after a traffic infraction," which led to his arrest by St. Petersburg police. As seen in the video included in the Neighborhood Talk post above, Wave shared a clip that showed him while police lights flashed in the background. 
Should Wave be convicted, battery by strangulation is a third degree felony carrying a maximum sentence of five years behind bars, five years of probation, and a $5,000 fine in the state of Florida.