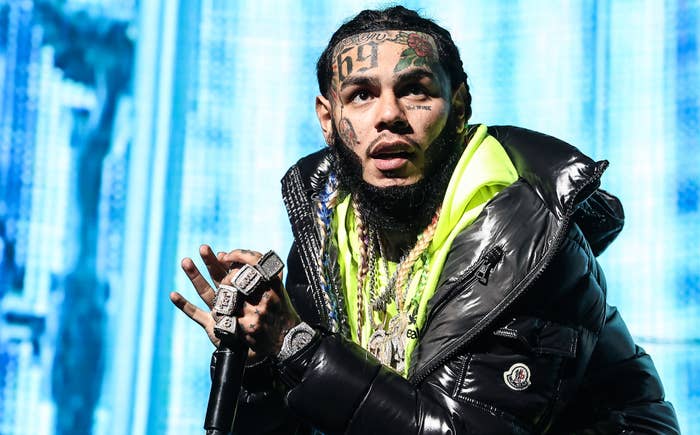 More than a year after 6ix9ine was sued by Beatdemons over his 2020 single "Gooba," the Brooklyn rapper has reached a settlement with the Texas-based production group.
According to court documents obtained by Complex, 6ix9ine and his legal team have decided to settle the legal battle. In addition to 6ix9ine and Beatdemons, the parties involved include TenThousand Projects, Create Music Group, Andrew Green and Jahnei Clarke.
Last March, Beatdemons filed a lawsuit in which the production group claimed 6ix9ine's "Gooba" copied the melody, structure, and overall composition of their 2018 song "Regular."
"The settlement in principle is conditioned on and subject to the parties entering into a written settlement agreement approved and signed by the parties," the settlement reads. "The parties anticipate that the written settlement agreement will be finalized within the next forty-five (45) days and that a stipulation of dismissal of the entire case, with a waiver of fees and costs, will be filed shortly thereafter."
Released in May 2020, "Gooba" marked the first track 6ix9ine dropped after he arrived home from prison that April. Debuting at No. 3 on the Billboard Hot 100, the track scored the biggest 24-hour debut for a hip-hop video in YouTube history, and has since amassed 780 million views on the platform.
Check out both songs below. 
News of the settlement arrives just weeks after 6ix9ine claimed that he is "struggling to make ends meet" in a sworn declaration to a judge overseeing a civil lawsuit for his involvement in a 2018 armed robbery.
"Right now, I am struggling to make ends meet. I do not know if I will ever command the kind of advances I was paid before my arrest, and my career stalled," 6ix9ine said, per court docs obtained by Complex.
6ix9ine went on to reveal that his record and merchandising deals with TenThousand Projects have expired, leaving him on the verge of bankruptcy. 
"I did receive large advances under the recording artist and merchandising agreements prior to my arrest," the rapper stated in the docs. "However, I do not receive any royalties under those agreements either since my royalty accounts remain unrecouped."
6ix9ine added, "It will surely bankrupt me in a way from which I will never recover to the permanent detriment and hardship of the family members who rely upon me."