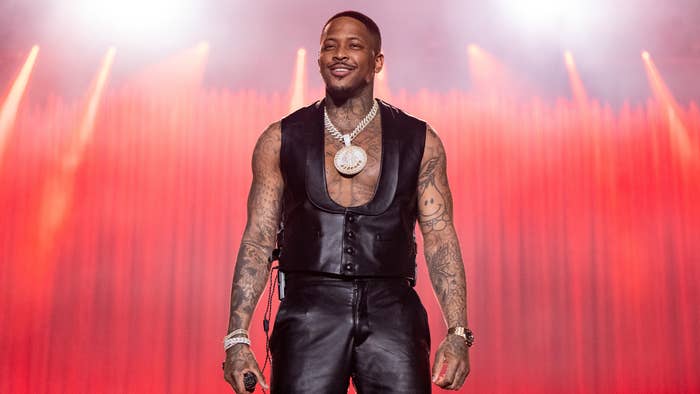 Following the release of Donald Trump's mugshot, YG is cashing in.
YG, who once released the Trump diss track "FDT," has launched a pair of new t-shirts via his 4Hunnid imprint. The merch features Trump's now infamous mugshot alongside red, blurred text that reads, "FUCKED." It's available now in white and black colorways, with a retail price of $35. The item is listed as the "FDT T-shirt," referring to his 2016 Nipsey Hussle collaboration that loudly proclaimed, "Fuck Donald Trump."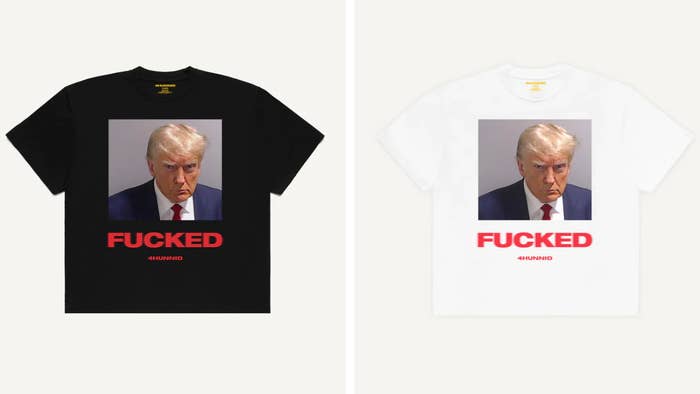 "FDT" isn't the only time YG has proudly dissed the former president. In 2020, he took aim at Trump once again with the video for "Jealous." While he's always stood by the track, it didn't come without some pushback. YG told TMZ that the Secret Service reached out to him over the track after it was released. "Secret Service hollered at the label," he said. "They asked if they could see the lyrics on my album to see if I'm talking about it on my album. 'Cause I'm talking about it on my album, they gon' try to take it off the shelf."
As reported by Billboard, the song regained popularity on election day in 2020 with a 221 percent rise in sales compared to the previous day. Streams, meanwhile, rose from 240,000 to 1,050,000.
During his performance at Camp Flog Gnaw in 2019, YG brought out Stormy Daniels, who alleged she had an affair with Trump. "My name is Stormy Fucking Daniels and I am the reason that Donald Trump is fucked," Daniels told the crowd. YG said that she was the one "that fucked Donald Trump," but she retorted, "No, I just laid there."
Last week, Trump surrendered to Georgia authorities on 13 felonies in connection to his alleged attempts to interfere with the outcome of the 2020 election. Shortly after, his mugshot was released, making him the first president to ever get one. "I really believe this is a very sad day for America," he told reporters after he was released. "This should never happen. If you challenge an election, you should be able to challenge an election. I thought the election was a rigged election, a stolen election, and I should have every right to do that. … What has taken place here is a travesty of justice—we did nothing wrong, I did nothing wrong, and everybody knows it."
Trump covered the cost of his $200,000 bond by putting 10 percent toward it and working with a bonding company, according to sources.
The photo, obviously, went viral on social media and everybody made sure to get their takes in. The jokes came in fast, with various fake mugshots added to the mix with some people joking that it could serve as the basis for an album cover. Quavo, meanwhile, joked that he saw Trump at Atlanta's world-renowned strip club Magic City.