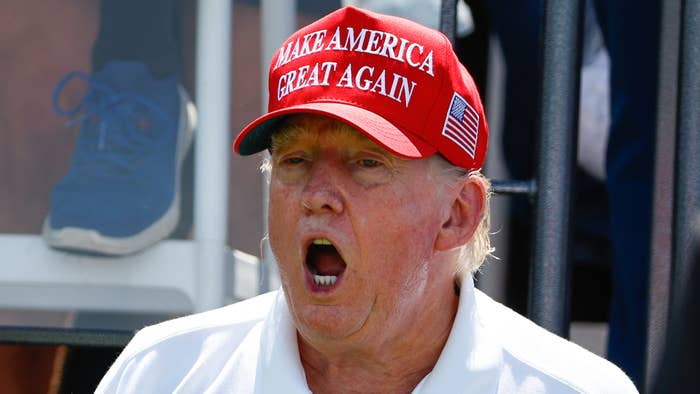 In a move that seems destined to—more than anything—ultimately further boost his presence in headlines, Donald Trump surrendered to authorities at Atlanta, Georgia's Fulton County Jail on Thursday evening.
He's charged with 13 felonies.
The 77-year-old spent less than 20 minutes in the facility before being released. His mugshot hit the internet about an hour later. He's the first president—former or current—to ever get one.
"Seated in the backseat of an SUV, Trump offered a thumbs up to a pool of photographers documenting his exit from the jail," the New York Times reported.
On the tarmac before reboarding his plane, Trump told the press, "Thank you very much for being here. I really believe this is a very sad day for America. This should never happen. If you challenge an election, you should be able to challenge an election. I thought the election was a rigged election, a stolen election, and I should have every right to do that. … What has taken place here is a travesty of justice—we did nothing wrong, I did nothing wrong, and everybody knows it."
CNN reported via sources, "Trump covered the cost of his $200,000 bond by putting 10 percent toward it and working with a local Atlanta bonding company called Foster Bail Bonds LLC."
The former president is among 19 co-defendants charged in an indictment with conspiracy to overturn the result of the 2020 presidential election in the state of Georgia. Before he turned himself in, Trump took to his Truth Social platform, writing, "ARREST TIME: 7:30 P.M."
Around 7:15 p.m., footage of Trump exiting his plane hit the internet shortly after he landed in Georgia:
Last week, Fulton County District Attorney Fani Willis held a press conference detailing the charges against Trump and others over "violations of Georgia law arising from a criminal conspiracy to overturn the results of the 2020 presidential election in this state."
Trump's charges included violation of the state's RICO Act, solicitation of violation of oath by public officer, filing false documents, and more. At the time, Willis said Trump and others named in the indictment had until this Friday to "voluntarily surrender."
WSB-TV reported that Trump, just hours before his surrender at the Fulton County Jail, replaced the head of his legal team. He was originally set to be represented by Drew Findling, but now famed Georgia attorney Steve Sadow is replacing him. Among his high-profile clients, Sadow has notably represented Gunna, Usher, T.I., and Rick Ross.
"The President should never have been indicted. He is innocent of all the charges brought against him," Sadow said. "We look forward to the case being dismissed or, if necessary, an unbiased, open-minded jury finding the President not guilty. Prosecutions intended to advance or serve the ambitions and careers of political opponents of the President have no place in our justice system."
Also named in the indictment was Rudy Giuliani, whose appearance in a RICO indictment was widely called out as deliciously ironic, as well as a former Kanye West publicist. NYC mobsters, many of whom were indicted by Giuliani under similar RICO charges, were reportedly "thrilled" by the news. The arrival of the 79-year-old's mugshot also proved to be popular on X, the social media network formerly known as Twitter.
As of this month, Trump is now indicted in four different cases.
Regardless of how these cases end up playing out, it's safe to say that 2024 will be a brain-walloping shitshow from start to finish on both sides of the proverbial aisle.