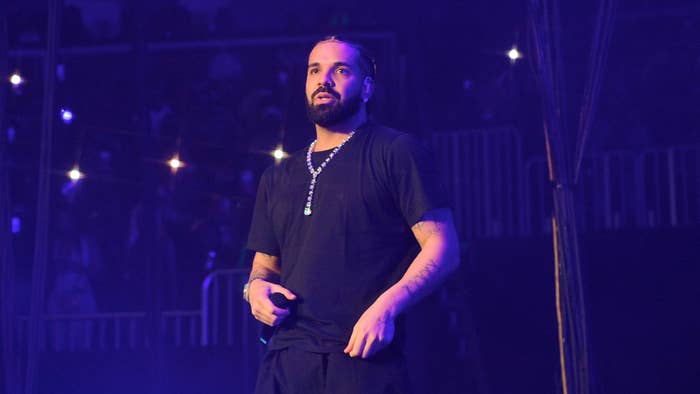 Drake appeared to quickly handle a fan at one of his Dallas shows as they didn't respect his personal space.
In a video taken during one of Drake's shows at the American Airlines Center in Dallas, the Canadian superstar was seen making his way through the crowd with security in tow when a woman reached her arms around his neck. She leaned in for a kiss, but he dodged away and gently shoved her back into the crowd. He didn't seem too bothered by the moment and seemingly laughed it off as he continued to walk through the packed arena.
The incident comes not long after Drake had another strange interaction with a fan during an Austin show of the It's All a Blur Tour.
As seen in a video that circulated shortly after the show, Drizzy appeared surprised when a fan walked right up to him and attempted to shake hands between songs. "Y'all not doing security out here? You not doing security?" Drake asked while walking the fan over to the edge of the stage. A security guard grabbed the fan, but not before Drizzy offered his thoughts on security's slow response. "Boy, you slow as fuck," he said.
While there have been a number of interestung fan interactions during the It's All a Blur Tour, there have also been plenty of positive ones, too. During a show in Dallas, Drake offered to fly a fan back home in first class after they held up a sign that showed they flew all the way from Japan. "You came here from Japan for the show? You know what? We flyin' you home first class back to Japan. We gon' take care of that. We love y'all," Drake said.
Unfortunately, the tour has resulted in a last-minute delay for Drake's highly-anticipated new album For All the Dogs. "Okay, my dilemma I am faced with is either cancel shows to finish the album or I complete the mission and drop the album before the last show," Drake wrote in a note addressing the delay. "I owe you all these memories we are building, and anywhere we have missed to date, we will be spinning back for sure."
For All the Dogs was scheduled to be released on Sept. 22, but it will now arrive Oct. 6.