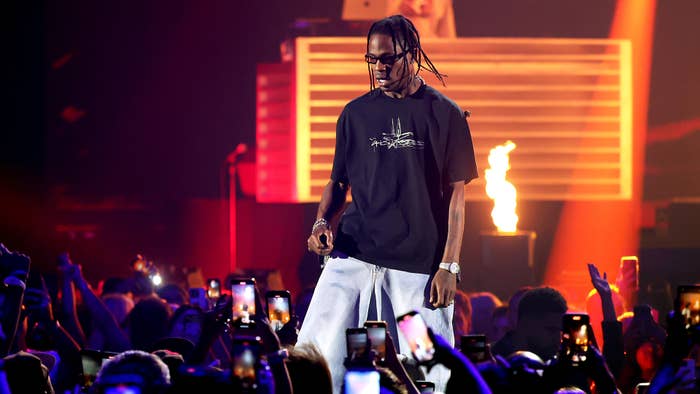 Travis Scott has big plans for when he wraps up his Circus Maximus Tour.
In an interview with Chris Heath for GQ, La Flame said that he plans to partially shift his focus from music to pursue another passion of his: architecture. "I'm going to Harvard for architecture school," he said, noting that he's already taken a couple of visits to the school and has researched the admissions process. "I got to work hard to get in. They're not letting me take any shortcuts."
Asked how soon he plans to start studying, he revealed that he's set to pursue architecture when the Circus Maximus Tour in support of Utopia wraps up in January next year. "Well, I told myself after this album I was going to go in. So after the tour," he explained, noting that he was very serious about it. Asked if he'll be studying architecture full-time, he confirmed as such and said he'll even move to Boston for it. "It'd probably be like four years," he said. "I'm still going to make music, of course."
Scott added that this is something he's been hoping to do for quite a while. "I've always been into structural design and structural engineering and, you know, trying to just build all different type of things, right?" he said. "When you start seeing how odd things can be shaped and then see how they can structurally work, it's interesting. And I'm always trying to be like an ultimate problem solver. A lot of things intrigue me. Like, I'm doing rehearsals now and I'm always asking questions about even just structural and staging and how it can be built."
Elsewhere in the interview, he spoke about how he wanted to become a nephrologist when he was younger. He said when he was in either third or fourth grade, he attended one of his friend's birthday parties and was taken aback by how "crazy" the house was. "I've never seen a crib like this. It was OD," he explained. "His dad was an ob-gyn. And I remember his uncle was at the house, and I asked his uncle, I was like, what do you do? And he's like, I'm a nephrologist. He told me what it was, and I was like, Yo, it's crazy. I was like, Yeah, I want to be that."
A nephrologist is a doctor who specializes in the care of kidneys and speaking with his friend's uncle inspired him. "Don't know why being a kidney doctor was just such… I think it was his swag. Like, his whole swag was just like he was fresh. I don't know. It was the idea of just, like, saving people at the time was dope," he shared. "Middle school, high school, that's all I wanted to do—wanted to be a nephrologist. I used to go and shadow at the hospitals. So I fell in love with it more there, just the whole process of it all."
He had aspirations to run his own practice, but ultimately he dropped out of the University of Texas at San Antonio to pursue music full-time.
In the extensive profile feature, which is part of GQ's annual Men of the Year series of features, he also revisited the 2021 Astroworld Festival crowd crush, which left ten of his fans dead. "That moment for families, for the city, you know, it was devastating," he said. "And when it came to making, like even finishing the album…I got back into it probably like, I don't know, months and months and months after." He said he was "devastated" by the way the event went and he "always" thinks about it.