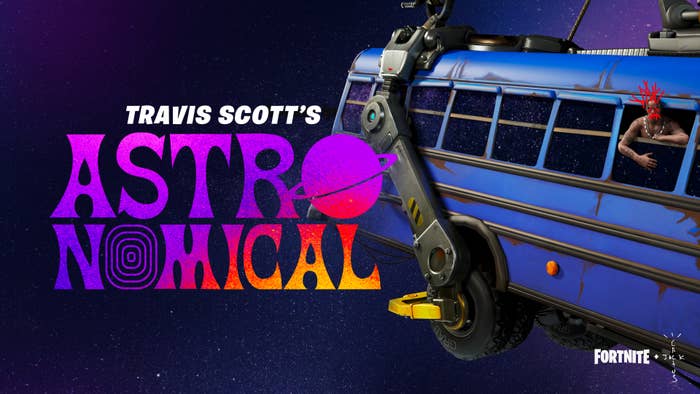 Travis Scott kicked off his Fortnite event "Astronomical" last night, and a lot of people tuned in. 
As revealed on the official Fortnite Twitter, the event broke records for the most concurrent players ever.
With over 12.3 million players tuning in, it's clear that Epic Games is looking to repeat this level of success in the future with further musical events. The game previously housed a live set from Marshmello, but the Travis Scott featured a wilder set of visuals than that event did. It is worth noting that the full set could later be removed from websites, as Epic Games likely wants players to experience the show for themselves in the game itself. 
Travis used the platform to debut a new song featuring Kid Cudi. To coincide with the event and the release of "The Scotts," La Flame even launched a small line of merch that includes t-shirts, hoodies, a Nerf gun, an action figure set, and vinyl. For those of us not quite as tapped into the world of gaming as others, Fortnite players around the world have been kind enough to upload the whole live event online. 
Starting at a stage which players would drop to in order to tune in, "Astronomical" kicked off with an instrumental intro that slowly morphed into "Sicko Mode." The visuals started simple with a light show before transforming into something else entirely. As it launched, players were catapulted into the air as a giant Travis Scott stomped across the game's map. 
That wasn't the only surprise the event had in store, though, as the visuals got increasingly more surreal with the players still in control the whole time. "Stargazing," "Goosebumps," and "Highest in the Room" were accompanied by skies on fire and a deep dive underwater. Before premiering the final song of the night, which saw players flying through space, the game delivered an encore of "Sicko Mode." 
Speaking about the event with Big Boy in the Neighborhood, Scott said that it was important for him to deliver something cool to his fans during self-isolation. "Just being able to get some of my ideas off in a game, and for people to play at the crib," he said when asked about the show. "I've been busy getting ready for the show, [but] I loaded my skin up, gave it a run, but I've been focused, more so, on the design." 
Watch the full set above, and check out the rest of the showtimes for the event below.