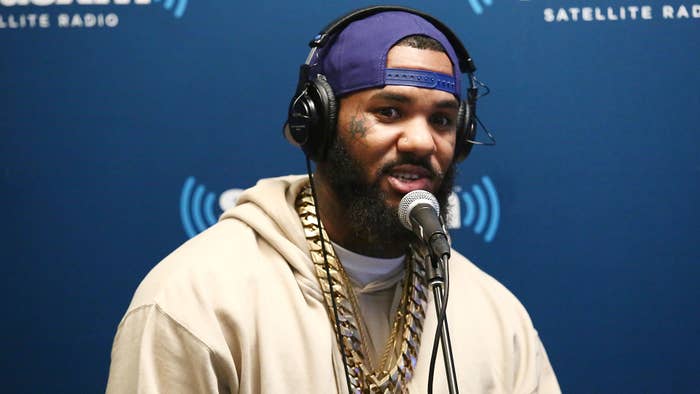 The Game has doubled down on his assertion he's a "better rapper" than Eminem after he made similar comments during his recent Drink Champs interview.
On Sunday, the rapper shared a clip on Instagram (as seen below) in which he reiterated his belief that he's the more talented MC, as much as he also shows love to Em. "When y'all say Eminem is better and all that, I see it, I see it. I feel you," he said. "And you know what? If you feel like Eminem is better than me, that's your opinion. But it's a lot of people that feel like I'm better than Eminem, and that's they opinion. Me personally, is Eminem better than me? Nah, he not, bro."
He went on to explain that if anyone has doubts about his own talent, him and Em could hop in the studio and figure it out on wax. "I think the best way to see if he is or if I am is… let's rap about it," he continued. "Let's do something, let's put something out. Let's see, 'cause that's what this shit is, bro. It's rap." 
Game also explained that even if he did think Em was better than him, he probably wouldn't admit it anyway. "I'm striving to be the best human that I can possibly be—the best rapper, the best father, the best friend," he added. "I also gave [Eminem] his props in the same accord. As far as being better than me, nah. Eminem is not better than me. Bro, I'm better than him. I said it again and I'll keep saying it again, bro. It is what it is."
"I like Eminem, he's one of the fucking good MCs, great MCs. … I used to think Eminem was better than me," Game said around the 1:35:49 mark of the recent Drink Champs interview. "He's not. Ay, challenge it." The conversation later turned to the topic of Verzuz, at which point he suggested he was confident he could go up against Em in a battle.
"Swizz [Beatz] and Timbaland know that it's bigger than Verzuz," he said around the 1:37:20 mark. "I'm not saying I want smoke with Eminem, I'm saying I want smoke with Eminem, him, and him, whoever."
Game also said on Drink Champs that Kanye West boosted his career more in two weeks than Dr. Dre did in the entirety of their relationship. He spoke further on the topic on IG, saying, "As far as what I said about like, you know, Ye did more for me in two weeks than Dr. Dre did my whole career, it's like y'all look at it like this n***a Dr. Dre signed Game and so, yeah, like that was it. But n***a, I ain't taking credit from nobody, I appreciate the shit and all that, but n***a, Game was gon' be Game. N***a before I met Dre I was buzzing in the motherfucking streets so crazy, or else why would I have been in that fucking room, bro? … I was gon' be who I was gon' be regardless, my n***a."
See Game's more recent 15-minute Instagram video in full below: