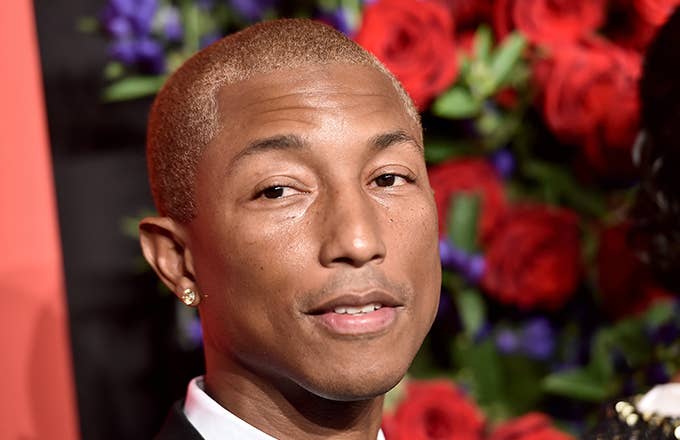 Pharrell Williams sat down for an interview with GQ to discuss his evolving perspective on masculinity and what it means to him. The 46-year-old music and fashion icon discussed his personal growth throughout the years, and explained that he was "born in a different era." He continued, "It just took a lot of time and growth to get to that place."
From there he said that there are a lot of songs from his past that he's "embarrassed by." Of particular note is the controversial Robin Thicke song he co-wrote, "Blurred Lines," which be brought up in the interview by himself.
"I think 'Blurred Lines' opened me up," Pharrell said. "I didn't get it at first. Because there were older white women who, when that song came on, they would behave in some of the most surprising ways ever. And I would be like, wow. They would have me blushing. So when there started to be an issue with it, lyrically, I was, like, What are you talking about? There are women who really like the song and connect to the energy that just gets you up. And 'I know you want it'—women sing those kinds of lyrics all the time. So it's like, 'What's rapey about that?'" 
While he didn't initially understand the criticisms the No. 1 hit faced, he later realized the language used was similar to that used by men "taking advantage of a woman."
"It just matters how it affects women. And I was like, Got it. I get it. Cool," he said. Pharrell initially defended the song in a 2014 interview with Pitchfork, but has since come to terms with how the song comes across as predatory.
"My mind opened up to what was actually being said in the song and how it could make someone feel," he said. "Even though it wasn't the majority, it didn't matter. I cared what they were feeling too. I realized that we live in a chauvinist culture in our country. Hadn't realized that. Didn't realize that some of my songs catered to that. So that blew my mind."
On Monday Pharrell announced the return of his Something in the Water festival in Virginia Beach. The second annual outing will boast "expanded programing across an entire week," a press release promises. From Monday, April 20 to Thursday, April 23, Pharrell will bring "the best of what he's seen around the world back to Virginia Beach, including the brightest minds from the culinary world, technology, environmental sustainability, health & wellness, media and more."
Followed, of course, by three days of music over the weekend of April 24-26. The lineup is TBA; early ticketing info is here.