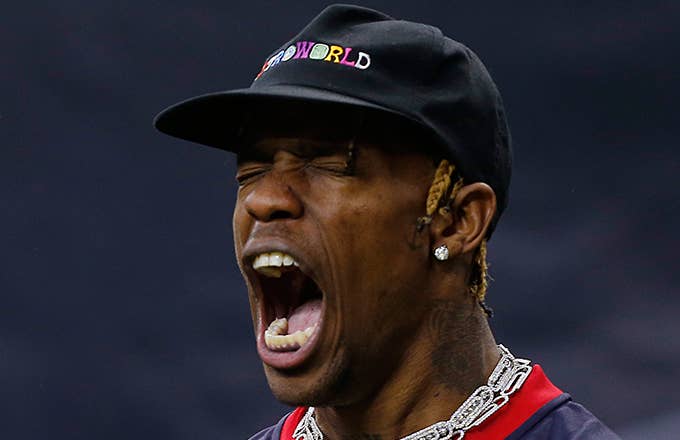 Maroon 5 will perform at this year's Super Bowl halftime show, joined by Big Boi and Travis Scott. Reportedly, La Flame only agreed to perform if NFL would match a $500,000 donation to a social justice cause, but a petition rapidly gaining attention is imploring him and the other two acts to take a stand against police brutality and the NFL's stance on players taking a knee.
Previously the creator of the petition and Unstrippedvoice, Vic Oyedeji, posted on Change.org asking Maroon 5 to back out of performing at the Super Bowl. Garnering over 85,000 signatures, he's since changed its direction with a new update asking for all three acts performing to take a knee in protest. "It appears these artists aren't backing out at this point," he wrote. "So now what? There's one way they can still redeem their reputation with their fans. Maroon 5, Travis Scott, and Big Boi: take a knee during your set.
"Show the hundreds of millions of people watching that you stand in solidarity with Kaepernick and all players who protest police brutality," Oyedeji added. "Use this opportunity to force the NFL to change their policy." Maroon 5 reportedly had a hard time finding people to perform with them at the Super Bowl, with Rihanna and Adele among those who turned down offers to appear. Oyedeji wants to make it clear that it's not about Maroon 5, however, but what they're saying by performing at the Super Bowl.
"I have nothing against the band, this isn't about them and they just got caught in the crossfire," Oyedeji told Billboard of Maroon 5. "I'm saying the only way for them to preserve their reputation is to take a knee during their set to show the hundreds of millions of people watching their solidarity with Colin Kaepernick and the players who are protesting police brutality."
Sign the petition here.