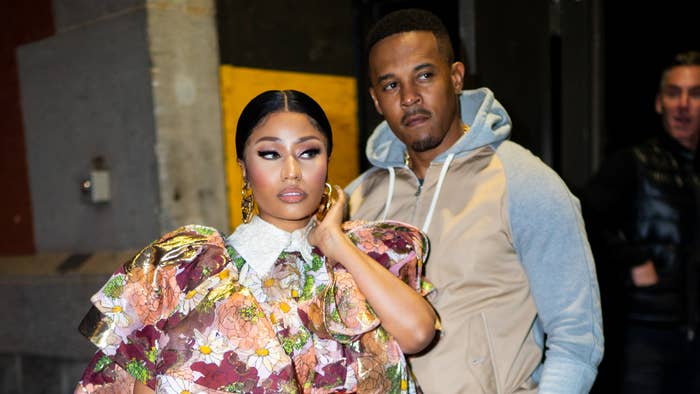 Nicki Minaj is not here for articles about her husband Kenneth Petty. A clip of the rapper performing in her home country of Trinidad has surfaced online, and Petty caught flak after he was seen pushing Carnival singer Iwer George's arm away from his wife. Iwer has said it's not a big deal, while Nicki herself responded to a fan comment in which she apologized on Petty's behalf.
In a tweet responding to an article about the video, Nicki made it clear Kenneth couldn't care less about what people say about him on the internet. 
"My husband be all over the blogs & he don't even know it," she said. "No social media to see y'all talk about him more than y'all talk bout these rappers dats out here doin the most for y'all attention... I could never comment on a regular man this much." In a follow-up tweet, she added, "Ppl get so mad when they see u happy. Just laugh & keep it pushin. Life is beautiful."
She continued her thoughts in an Instagram post, claiming rappers would love to get the attention Kenneth does. "Rappers would kill for this attention chile," she said alongside a photo of them together. "Lol at night when we go to bed I say 'babe u was all over the blogs today.' He be like 'oh word?' 😂🤣 he rlly don't have social media to see y'all write think pieces about him chile."
When the video surfaced online, Minaj said Petty doesn't "understand anything about our culture." She said that it was on her to inform him Carnival has "a very comfortable family atmosphere," and that this year was his first time attending.