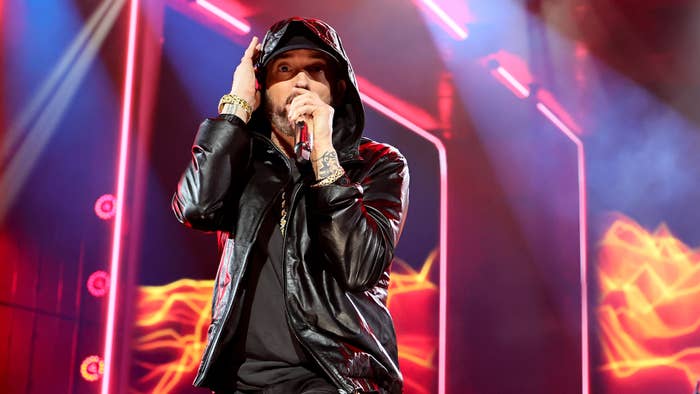 The racist shooter who killed three Black people in a Jacksonville, Florida Dollar General store reportedly wrote about his desire to kill Eminem and Machine Gun Kelly.
Per Rolling Stone, writings from the shooter, Ryan Christopher Palmeter, outlined the motivations behind his hateful beliefs, including his hope to help incite a race war. The shooter, who turned the gun on himself after killing three Black people inside the store, wrote about wanting Eminem and Machine Gun Kelly "to be killed on sight."
"Eminem (a.k.a. Marshall Mathers, a.k.a. Slim Shady a.k.a. Ken Keniff, a.k.a. the white guy from D12): Stared the abyss (being n*******y) and the abyss stared back (becoming a n****r)," wrote Palmeter, who also expressed appreciation for other killers who committed mass murder in his writings. "Walks the edge of n****r lover and honorary n****r. Fell off not because his new stuff sucked but because the lyrics were gay annoying liberal shit. ROE for Total N****r Death is to include Eminem (a.k.a. Marshall Mathers, a.k.a. Slim Shady a.k.a. Ken Keniff, aka the white guy from D12) as a valid target and he is to be killed on sight."
In another paragraph, he wrote that he was, at one point, within distance to fatally shoot Machine Gun Kelly in Ohio. "Colson Baker (a.k.a. Machine Gun Kelly): Honorable n****r," he continued. "To be killed on sight like Eminem because I didn't get a shot at him up in Ohio."
Other names mentioned in Palmeter's disturbed writings include Justice Clarence Thomas, who he called a "rare principled conservative." He also named domestic terrorist Timothy McVeigh—who killed 168 people in the 1995 Oklahoma City bombing—the Norweigan summer camp killer, and the Virginia Tech school shooter.
On Saturday, Aug. 26, Palmeter entered the Dollar General store equipped with a tactical vest and mask and was armed with a Glock and an AR-15-style rifle that featured swastikas on it. He left behind multiple manifestos, including ones addressed to federal agents and his parents. He shot and killed three Black people, 19-year-old Joseph "AJ" Laguerre Jr., 52-year-old Angela Michelle Carr, and 29-year-old Jerrald Gallion. He then turned the gun on himself. Before the shooting, he visited another Dollar General and Edward Waters University, where on-campus security turned him away.
As reported by Rolling Stone, the shooter was placed under 72-hour mental evaluation in 2017. He was never committed to a mental institution, however, because he was a minor at the time. He legally purchased the firearms used in the shooting earlier this year, which he could do because he was never committed.
In a call briefing national law enforcement regarding the shooter's motivations and the investigation, Special Agent in charge of the FBI Jacksonville office Sherri Onks said he used "multiple electronic devices with a significant amount of data." Authorities have identified "multiple writings" that show a "hatred against African Americans and belief in the inferiority of Black people. There's also evidence he harbored anti-LGBTQ+ and anti-Semitic grievances."