Ice Spice was shocked by how she looked in a photo with Taylor Swift at the 2023 MTV Video Music Awards.
The "Munch" MC, who sat with Swift at the VMAs on Tuesday, retweeted a photo posted by a fan account that showed her and the pop superstar embracing.
"damn i aint kno i was that thick hold on," she wrote alongside the photo.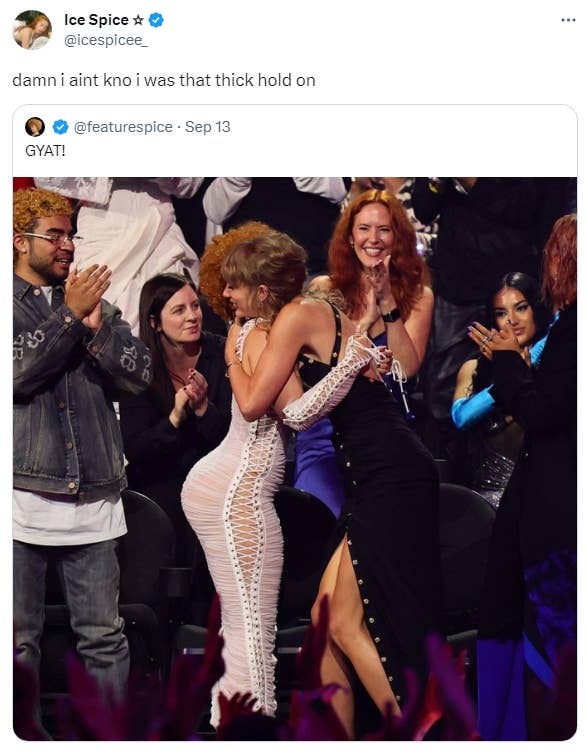 The Wednesday tweet has since gone viral and comes not long after the 23-year-old made an appearance in a new Dunkin' commercial for her signature drink alongside Ben Affleck, perhaps the most famous Dunkin' fan there is. The Oscar winner casually sits down at a table across from Ice Spice, who tells him she's "a Dunkin' girl" and that she refers to her fans as "the Munchkins."
Ice's "Karma" collaborator/new best pal Taylor Swift, meanwhile, appeared to be having the time of her life at the VMAs. The singer-songwriter walked away with nine awards, but she perhaps got more attention for dancing to various performers, including Demi Lovato, Lil Wayne, and Cardi B and Megan Thee Stallion's live debut of "Bongos." Spice also went viral after she apparently broke the $12,000 Van Cleef & Arpels ring she wore to the show. Another moment showed her struggling to get her drink out of a cupholder, in what might have been one of the most relatable moments of the entire show.
Ice Spice and Taylor Swift aren't the only two who went viral for their appearances during MTV's latest ceremony. Selena Gomez, for one, has vowed to "never be a meme again" after she appeared to pull a face in reaction to Chris Brown and Chlöe's nomination for Best R&B Video.